Kavanaugh Blindsides Mueller Investigation – He Can Stop Bob In His Tracks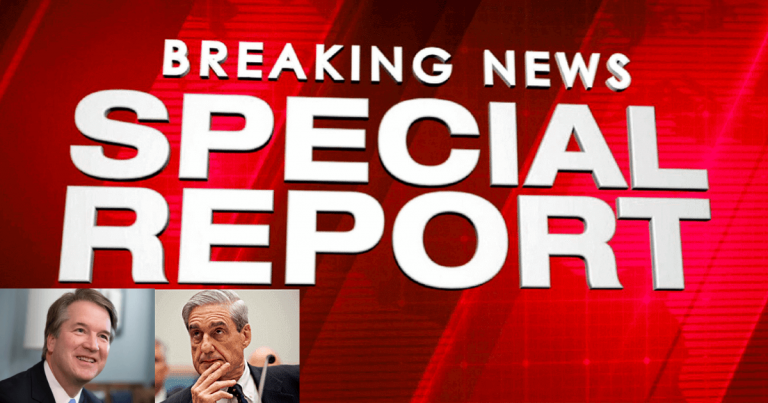 The Supreme Court 'Gamble' case is putting all the power in Kavanaugh's hands, and Mueller's in trouble.
Looks like it's possible—though unlikely—that Trump's new Supreme Court pick can decide the fate of Muller's probe.
It's possible that the people under the gun by Mueller—and pardoned by Trump—might be hit again with state charges.
That is, if Kavanaugh makes the deciding vote on a new Supreme Court case.
From Fox News:
At issue in the case heard Thursday is whether and when being tried in state and federal courts for the same crimes is permissible. Under a current constitutional exception, it has been allowed for years…

The intriguing relevance to Mueller's investigation would be if one of the defendants charged or convicted in the broad investigation — such as Trump's former campaign chairman Paul Manafort — were to be pardoned by the president for various federal offenses.

Would a state then be allowed to pursue its own separate charges, including tax evasion or corporate fraud?
In certain cases, a person can be tried twice for the same crime, despite the fact double jeopardy is illegal under our Constitution.
The exception comes if someone is tried once by a federal court and again by a state court. It's an ugly loophole, but one that's been upheld for over 170 years.
A current case, being decided by the Supreme Court, might overturn this precedent. If that's the case, then a pardon by Trump—for say Paul Manafort—would mean he's free from future convictions.
SHARE if you think the Mueller investigation is corrupt!
As it stands now, Manafort might avoid a federal charge, but be in danger of a state trial.
People are looking to Brett Kavanaugh, whose vote might sway the court's decision.
In the past, he's voiced concern that changing this exception would make it harder to prosecute certain crimes, such as sexual and domestic violence cases.
It also might invalidate the sovereignty of states.
But he's also expressed concern that keeping the current conditions violates a citizen's Constitutional rights.
As it stands now, Trump is in favor of keeping the loophole, as it would overturn years of how our government's operated.
But, as you can see, it's a complicated issue. One that we can't avoid.
SHARE if you think Mueller should not be able to override Trump's pardon!
Source: Fox News