Kayleigh McEnany Accuses CNN – Claims Acosta Got Trump's Church Visit All Wrong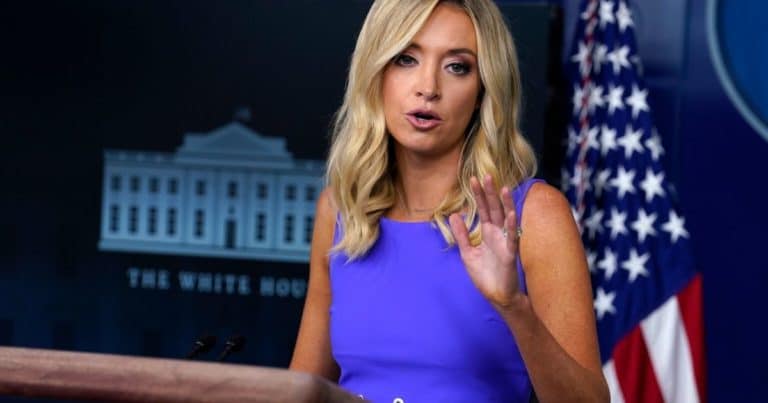 Why must the White House constantly correct news organizations?
Isn't it their job to get the facts right? And to distribute those unadulterated facts responsibly to the American public?
It just doesn't seem to happen very often. That's why White House Press Secretary Kayleigh McEnany has to frequently correct the mainstream news media.
For instance, during a recent press briefing, she had to take CNN's Jim Acosta to task.
Why? Because he kept repeating things that absolutely aren't true, according to McEnany.
It started when Acosta asked about protesters getting "gassed and pummeled" to clear the St. John's church area so President Trump could visit.
McEnany quickly replied (via The Daily Wire):
Right off the bat, McEnany stated that 'no tear gas was used, and no rubber bullets were used.'
Acosta tried to insist that "chemical agents were used," but Kayleigh stood her ground.
She said that tear gas certainly was not used, then she flat-out accused the news of "a lot of misreporting."
This is probably the most relevant – and my favorite – part of her speech, however:
 

The protesters were told three times over loudspeaker that they needed to move, and what happened was it grew increasingly unruly.

There were projectiles being thrown at officers – frozen water bottles were being thrown at officers, various other projectiles, and the officers had no other choice than in that moment to act and make sure that they were safe and that the perimeter was pushed back…

…it's absolutely uncalled for to throw bricks, absolutely uncalled for to throw water bottles that are frozen at police officers.
Of course, that wasn't enough to stop Acosta.
He tried to say they "sent in members of the military to deal with this" and suggested that it was "appalling."
Once again, though, McEnany set the record straight: the National Guard was used, NOT the military.
She then repeated that when officers are at risk, they need to act:
When an officer is at risk, they have the right to defend themselves.

They did so peaceably. No one had – there were no fatalities, no severe injuries.
The bottom line is this–
The MSM tried to paint this event as peaceful protesters getting unfairly assaulted by brazen military members. But the White House claims this is hardly the truth.
And once again, we have to ask: why can't the news simply report the facts as they are?
SHARE if you love watching Kayleigh McEnany turn the tables on CNN's Jim Acosta!
Source: The Daily Wire