Kevin McCarthy Goes After Nancy Pelosi – He Accuses Her Of Letting Democrats Skip Work, But Not To Vote Her In As Speaker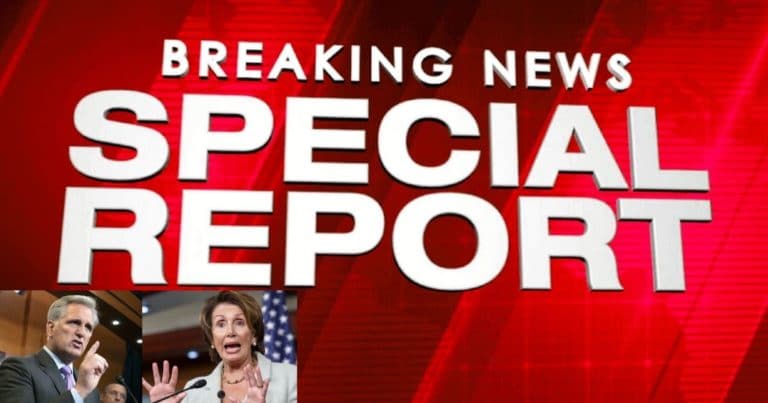 What's Happening:
In her last two years as Speaker, what has Nancy Pelosi done for the American people? I'll wait for your answer.
If you couldn't come up with anything, guess what, you'd be right. Yet, despite her shocking failures since 2018, Democrats in the House once again made her Speaker. I guess they're used to failure by now?
And now, Minority Leader McCarthy is hammering her for her most recent fumble.
From Fox News:
House minority leader Kevin McCarthy, R-Calif., is calling out House Speaker Nancy Pelosi for inconsistency when it comes to her decisions on her members voting in person.

"Pelosi is fine with House Democrats skipping work if the votes are about legislation, but in January she will demand every Democrat show up—in person—to vote for her for Speaker," McCarthy said. "Her message is clear: her power is more important than anything else."
McCarthy roasted Pelosi for her unwillingness to get Congress to work for the good of Americans. But he says she is demanding everyone to fly down to D.C. in January to vote for her as Speaker.
Pelosi has consistently blamed Republicans for much of the trouble of this year. Yet she refused to negotiate to craft an additional COVID relief package. She stalled for months. Some say she did it just to spite President Trump.
And she even admitted she did it for political reasons, while Americans wait for help because of the government's shutdowns.
Yet, when the time comes to select the next Speaker, she will demand that her party show up to vote.
Over the year, Pelosi allowed Democrats to literally "phone it in" when it came to important legislation. When Americans were demanding action over police brutality, she refused to work with Republicans on a solution and didn't allow their bill to be passed.
That's not even getting into her horrible track record over the last two years. Remember, she said she would not push impeachment when she ran in 2018. Then, at the drop of a hat, she pushed impeachment at the behest of The Squad.
She tore up the president's SOTU address, ignored COVID until it was too late, and continued to blame others.
Not what we would call leadership material. But when the time comes for her to get what she wants, she'll be demanding everyone listen to her.
Do you think Pelosi should be speaker?
Key Takeaways:
House Minority Leader Kevin McCarthy slammed Pelosi over her decisions as Speaker.
He criticized Pelosi for letting Democrats skip work when it came to voting on legislation.
But he said she'll demand everyone come back in January to select her as speaker.
Source: Fox News