Kevin McCarthy Goes Straight At Pelosi – He Wants To Take Away Nancy's Speaker Gavel In 2022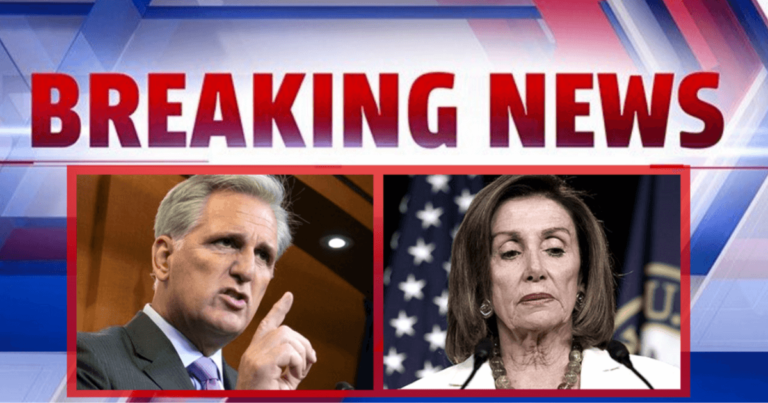 What's Happening:
Despite Democrats' tenuous hold on Congress, House Minority Leader Kevin McCarthy looks pretty confident.
After all, Democrats lost seats in the House in 2020. Republicans only gained. They are now a hair's breadth away from losing their coveted majority.
2022 will be here in just two short years. And the Democrats' plans are already hitting one snag after another.
It seems McCarthy is looking at the gavel for himself.
From Breitbart:
House GOP Leader Kevin McCarthy has a fresh spring in his step after the Republicans defied the odds and professional political prognosticators by picking up 15 seats in the 2020 congressional elections.

"Coming out of the election in November when everything was going against us and we still won 15 seats and got just a hair away from winning back the majority—which is the exact opposite result of what every pundit in America said was going to happen—that tells you a lot about Kevin McCarthy's tenacity," Banks said.
Why It's Important:
McCarthy's aggressive leadership helped Republicans expand their base in the House in 2020. And with such a slim difference in the House, it won't be a huge shocker to see Republicans flip it in 2022.
Democrats have put themselves in a tough position. They burned through whatever goodwill they still had to "retake" D.C.
But with Sleepy Joe in the White House and a narrow majority in Congress, Democrats are in a tough situation.
Everything that comes out of Washington the next two years will be on their heads. Good or bad.
If they had a larger majority, it wouldn't be a problem. If they faceplant, they could afford to lose a few seats.
But they can afford to lose nothing. They will need a perfect record the next two years–or they will suffer big losses in 2022.
Already, they have produced big failures this year. They are struggling to provide a new COVID bill. They failed to convict Trump post-election.
And voters are already ticked off, since they promised $2,000 checks but will only provide $1,400.
Plus, Joe Biden killed off tens of thousands of jobs with his executive orders.
Meanwhile, McCarthy is running hard for the Speakership. He just might nail it.
Key Takeaways:
Kevin McCarthy helped secure big GOP wins in the House in 2020.
Democrats have a slim majority that is at risk in 2022.
McCarthy believes he can flip Congress and secure the Speakership.
Source: Breitbart