Republican Superstar Kristi Noem Terrifies Illegals – New Order Has Them Running Scared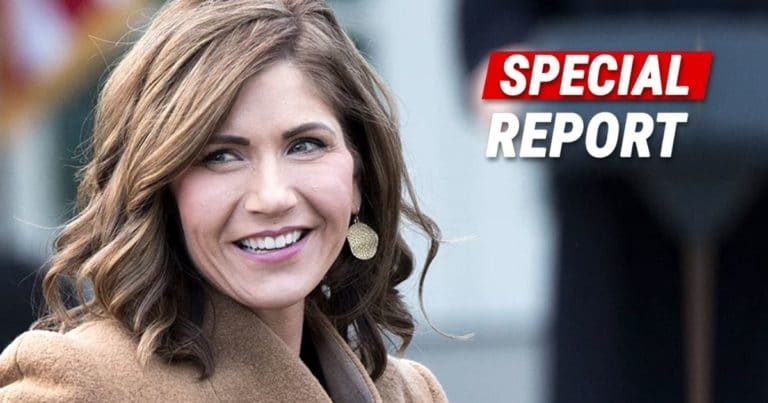 What's Happening:
Kristi Noem has become a popular figure within the GOP. She refused to lock down her state, even at the height of the COVID panic.
Since then, she has wowed Americans with her patriotism and America-first mindset. Some have even floated the possibility that this impressive woman could be a contender in the 2024 election.
Maybe as a running mate for Trump—or even the top candidate.
But as governor of South Dakota, she is taking the fight to Joe Biden already. She's slamming the door on his attempt to import illegals into her state.
She's got the perfect message for them. From IJR:
South Dakota Gov. Kristi Noem (R) is adamant her state will not be accepting illegal immigrants.

"South Dakota won't be taking any illegal immigrants that the Biden Administration wants to relocate. My message to illegal immigrants… call me when you're an American," Noem tweeted on Wednesday.
Noem made it very clear that her state would not be accepting illegal aliens shipped there by Joe Biden.
With the Biden-made crisis exploding at the border, the Feds are having trouble housing all the illegals they should be deporting.
Centers are full, as are the bridges Biden is sticking illegals under. So, his administration is bussing (and in some cases, flying) illegal aliens to other states.
I guess he wants to spread around these aliens, hoping their presence would have a dramatic impact on voting demographics in conservative and swing states.
On, come on! You know that's the real reason Biden is doing all this.
Tucker Carlson recently exposed the Democrat plan, and they were furious. The more illegals they move into red states, the more they will change the vote and secure liberal majorities.
For goodness sake, they've already admitted they're doing this in Texas.
Noem had a strong message for illegals who try to break our laws to enter the country. "Call me when you're an American."
Too strong? Not really. America has immigration laws, same as any other country. We welcome legal immigrants and those who want to follow the rules.
It is insane to think we should be welcoming, housing, and transporting those who broke the law and refuse to respect our border.
Noem has a duty to defend the rights and liberties of her residents. And it appears she is doing just that.
Key Takeaways:
Kristi Noem has openly defied Biden's attempt to import illegals into her state.
She told illegal immigrants, "Call me when you're an American."
Biden created chaos at the border when he removed numerous protections.
Source: IJR