L.A. Mayor Plans To Cut $150M From Police Budget – And Give It To "Communities Of Color"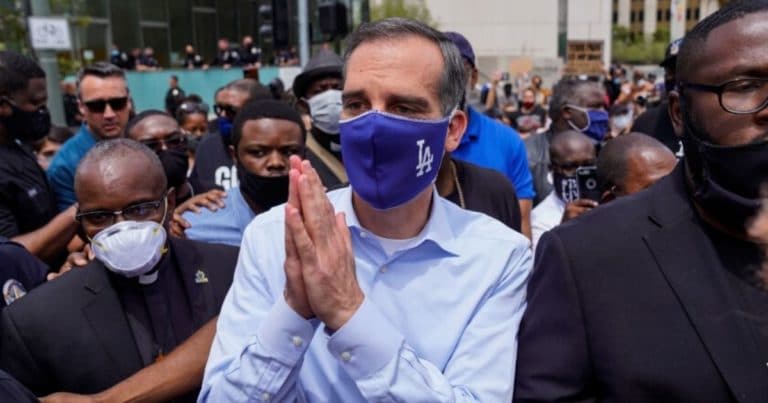 After the riots of the last two weeks, many are trying to find answers. How can we protect our communities, while also preventing tragedies like George Floyd's murder?
You might think the best solution is increasing funding for police departments. Use every resource available to hire good cops and get rid of bad ones. Train them to be the best.
Not in LA! Because the mayor of Los Angeles (a city with a history of riots and chaos), just announced perhaps the worst idea ever.
From Fox News:
Los Angeles Mayor Eric Garcetti said Wednesday that he tasked the city to "identify $250 million in cuts" to invest more money into the black community, communities of color,  women and "people who have been left behind."

The Los Angeles Times reported that the city will try and cut between $100 million to $150 million from its police budget alone.
Mayor of Los Angeles plans to cut nearly $150 million from the police budget to "invest" in the black community.
He wants to find over $250 million in overall cuts to the budget to accomplish this goal.
Our Take:
Are all Democrats this stupid? When has cutting police budgets ever result in better cops or safer streets?
This is just a ploy by a liberal to virtue signal to the population. Where is all this money going, really?
Will it be put into rebuilding black-owned businesses? Will it secure school choice for black families?
Or will it be dumped into progressive groups run by Garcetti's own allies?
I think you know the answer.
Murders like George Floyd's happen because liberals neglect police departments. Democrats who despise law and order don't care about holding cops to high standards.
They appoint politically correct police chiefs, who turn a blind eye to the needs of their departments.
Bad cops get to stick around, while good cops are neglected. Good people leave while bad people prosper.
Which leads to tragic and avoidable deaths, like George Floyd's.
It happens every time.
By cutting the LAPD's budget, Garcetti is ensuring the next outrageous act of police brutality will happen in LA.
The city will not be able to properly train or equip its cops. But crime won't be any less deadly.
Cops will be forced to take drastic measures to defend themselves from violent criminals. How do you think that will go?
SHARE if you stand with our police, not liberal LA.
Source: Fox News