Latest 2024 Poll Shows Turnaround Surge – Trump's Popularity Takes a Turn Versus Biden and Harris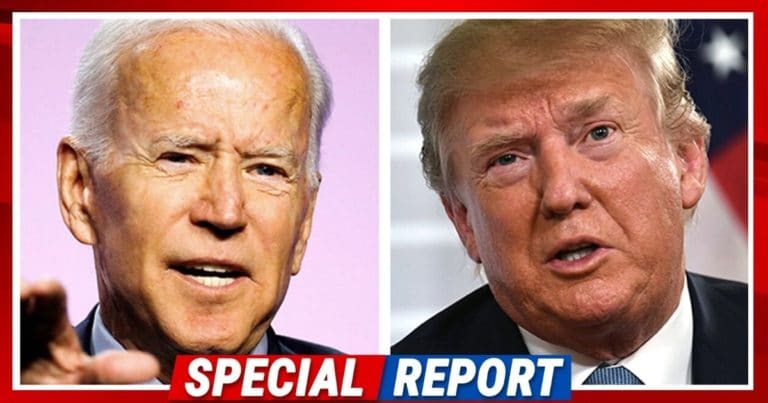 What's Happening:
We are two years away from the 2024 Presidential Election. But millions of Americans can't wait until they can give Joe Biden his walking papers. Thanks to Joe, more Americans than ever think we are on the wrong track. And Biden's endless reckless spending has left many in the poor house.
But what does that mean for 2024? So far, only Donald Trump has announced a race against the sitting Democrat. Plenty of polls have tried to predict his chances against Sleepy Joe Biden. But the most recent has come out. And it's giving Democrats some serious heartburn.
From Breitbart:
Former President Donald Trump has opened a clear lead over President Joe Biden in a new Harvard-Harris 2024 poll.

Trump at 46 percent leads Biden's 41 percent in the survey, with 13 percent who said they were unsure.

Trump also leads Vice President Kamala Harris by even more, with Trump at 48 percent, Harris at 40 percent, and 12 percent undecided.
🇺🇲 2024 Presidential Election Poll:

(R) Trump: 46% (+5)
(D) Biden: 41%

(R) Trump: 48% (+8)
(D) Harris: 40%
.
(R) DeSantis: 42% (+3)
(D) Biden: 39%

(R) DeSantis: 43% (+3)
(D) Harris: 40%

Harvard/Harris | Jan 18-19 | 2,050 RVhttps://t.co/b6wspC6HMh pic.twitter.com/x5hRdiJMc9

— InteractivePolls (@IAPolls2022) January 22, 2023
Wow. Did anyone see this happening? According to the Harvard-Harris poll, Donald Trump is opening up a commanding lead against Joe Biden and his would-be successor, Kamala Harris.
In fact, Biden is crushing the Democrats by larger margins than we've seen in a while. Trump beats Biden by a clear 5 points, 46% to 41%. And Trump defeats Harris by an even larger margin, 8 points, 48% to 40%.
This might come as a surprise to some commentators. Many suggested Trump was done for, after the 2022 midterms. Some of the candidates he endorsed lost high-profile races. And Republicans did not see a "red wave" in Congress.
Some took that as a sign that Trump was no longer the force he once was. But this poll might show a change among general voters. As long as the race is between Trump and Biden/Harris, he has an advantage.
It seems many Americans remember Trump's impact on the country. His America First agenda was bringing back jobs, high wages, and stability. But after two years of Joe Biden, the country is in freefall.
Interesting to note is that Florida Gov. Ron DeSantis also leads Biden and Harris, but by smaller margins. It seems Americans are eager to get rid of this toxic administration. And Republicans have strong contenders if they play their cards right.
Key Takeaways:
Trump is beating both Biden and Harris in a recent Harvard poll.
This comes after Trump announced his 2024 campaign months ago.
Many Americans blame Biden for the country being on the wrong track.