Trump's Not Done Yet – Donald Launches New Florida Office, But He Is Changing His Slogan To 'Save America'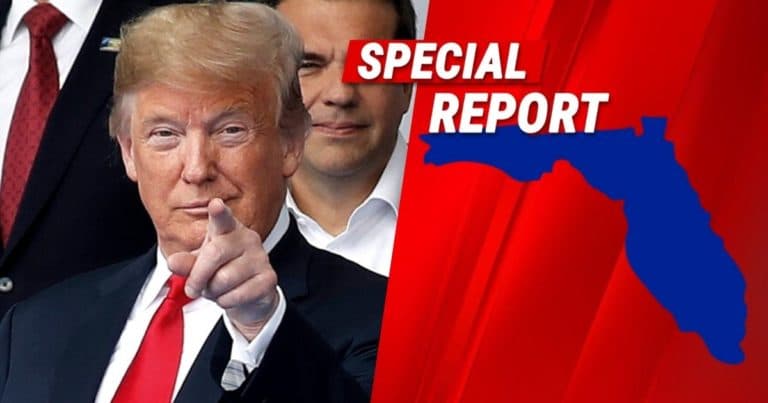 What's Happening:
Many speculated what Donald Trump would do, after leaving office.
Democrats are trying to bar him from running again. And social media kicked him off many platforms.
But did you think that meant Trump was doing fighting for America? Think again.
It hasn't even been a week and Trump is back. From Daily Wire:
Former President Donald Trump established an official post-presidency office in Palm Beach County, Florida, on Monday to oversee his post-presidential affairs…

"The Office will be responsible for managing President Trump's correspondence, public statements, appearances, and official activities to advance the interests of the United States and to carry on the agenda of the Trump Administration through advocacy, organizing, and public activism. President Trump will always and forever be a champion for the American People," the statement added.
And along with this new office, Trump is unveiling a new slogan to replace MAGA.
From Twitter: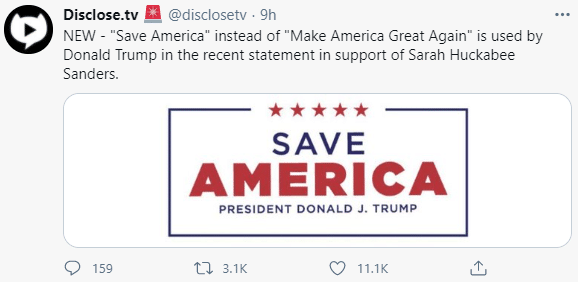 NEW – "Save America" instead of "Make America Great Again" is used by Donald Trump in the recent statement in support of Sarah Huckabee Sanders.
President Trump has formed a new office that will oversee his continued efforts to the United States.
He has vowed to continue his plans to put America first through "advocacy, organizing, and public activism."
Hey, if the left can use activism to forward their agenda, a man who got 75,000,000 votes can do it too.
His first move in this new position has been to endorse his former White House press secretary, Sarah Sanders, in her campaign for Arkansas governor.
When he posted his endorsement, he revealed the new slogan of his office: Save America.
The slogan took the place of his trademark "Make America Great Again," and "Keep America Great."
This suggests Trump's views on the incoming administration aren't great. And many Americans might agree.
In just his first week in office, Biden pushed a record number of orders. Some have already destroyed 11,000 jobs.
It looks like Trump's fight to help Americans hasn't ended, only taken on a new phase.
Do you support President Trump's fight to save America?
Key Takeaways:
Donald Trump announced his new Office of the Former President.
The organization will continue its America First agenda through various means.
In endorsing Sarah Sanders' campaign, he revealed his new slogan: Save America.
Source: Daily Wire, Twitter