After NYC Lawyer Arrested For Burning Police Van, Obama-Era Official Shows Up To Bail Her Out With $250,000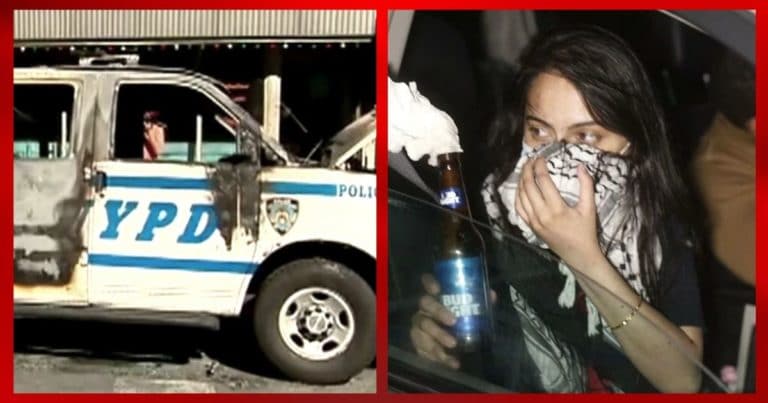 What's Happening:
A New York City lawyer was arrested for allegedly firebombing an unoccupied NYPD police cruiser over the weekend.
But she didn't stay in jail for long, as "a former high-level Obama administration intelligence official" posted the necessary $250,000 bail.
Salmah Rizvi served in the Defense Department and State Department during Obama's term.
And apparently, she's both a colleague and a very good friend of the accused, Urooj Rahman.
Via Fox News:
Rizvi, an associate at the law firm Ropes & Gray, told the court:

'Urooj Rahman is my best friend and I am an associate at the law firm Ropes & Gray in Washington, D.C. … I earn $255,000 a year.'
Why It's Important:
In this case, it's Rizvi's past that stands out.
While Rahman's case is still pending, his friend Rizvi apparently has ties to certain organizations that could raise a few eyebrows.
For instance, according to The Free Beacon, Rizvi received a scholarship supported by the Council on American-Islamic Relations (CAIR), dubbed by many as a radical anti-Israeli group.
As an aside, it's important to remember that the FBI severed ties to CAIR in 2009, amid new evidence that suggested the group might be linked to Hamas.
Furthermore, Rizvi got additional scholarship funds from the Paul and Daisy Soros Fellowships for New Americans. This has links to a very rich friend to Democrats, George Soros.
As for Rahman, she's facing potentially 20 years in prison for allegedly torching the police car.
The question is, why should he be granted bail? Prosecutors voiced their concerns about allowing "firebombers" back into the streets, and their concerns seem warranted.
And there is something to be said for Rizvi's past, and her connection to the Obama administration.
However, while that quarter-million got the accused out of jail, justice could still be served in the future.
Key Takeaways:
A NYC lawyer, Urooj Rahman, was arrested for allegedly firebombing a police cruiser.
Not long after, a high-ranking Obama-era official – and her "best friend" – posted $250,000 bail to free Rahman.
This friend, fellow attorney Salmah Rizvi, has received assistance from CAIR and Soros-funded groups in the past.
Source: Fox News