Mark Levin Holds Up "Barack Obama's Blue Dress" – He Claims That Barry Has Known About Flynn All Along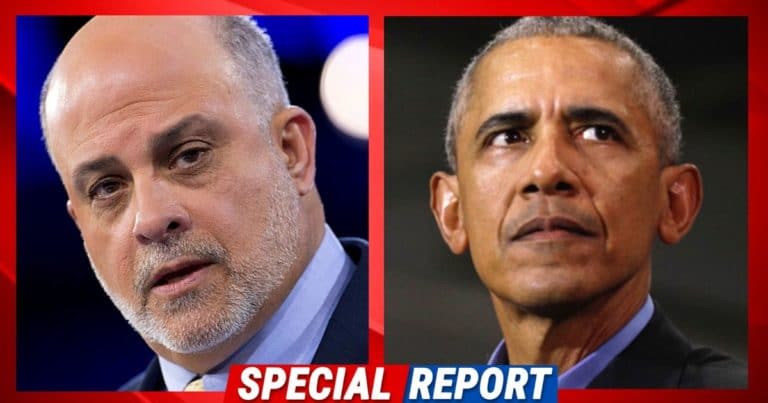 New evidence has emerged over the connection between Michael Flynn, the Russians, and Obama officials. It now looks like top officials set Flynn up, with the intent of getting him fired or prosecuted.
Mark Levin recently discussed these bombshell revelations. And he didn't pull any punches.
Discussing one particular document, he is pulling the back the curtain on what really happened.
From YouTube:
Here is Obama's blue dress. Now, why is this important? Let me take a minute on this. This tells us that Obama knew. He knew. Obama started by saying he had learned about the information about Flynn and his conversation with Kislyak, the Russian ambassador about sanctions.
Mark Levin pointed to a recently released document, saying this was Obama's "blue dress."
Meaning, Levin believes this is the proof Obama was connected to the scheme to set up Flynn.
The transcript reveals Obama knew about the fact his administration was wiretapping Flynn's phone calls.
Levin continues to lay out what Obama said and did during this time. He says this document lends a lot of weight to the suspicion that Obama at least knew about what the DOJ tried to do to Flynn.
And what about what they did to Trump?
He also brings up a good point. The one man who has never been questioned about all this is Barack Obama himself.
His own staff was conducting wiretapping against the incoming president's staff. His administration spied on Carter Page, using a questionable dossier.
His DOJ was conducting a Russian investigation many found troubling.
Many people have been interviewed and questioned about all this. But we've never heard from Obama?
Why is that? HE WAS THE PRESIDENT. Apparently he was in the room as the plan against Flynn was discussed. How could he have not known what Comey, the DOJ, the FBI, and other agencies were doing?
Either he's the most out-of-touch president in history or he had to know something.
Levin raises plenty of questions that demand answers. But will anyone in the media seek Obama for answers?
Will our current DOJ go after Obama—to see what he knew?
SHARE if you think Obama knew all about what was going on.
Source: YouTube