Lightfoot Unloads Major Actions in Her Final Hours – On Her Last Day, Lori Signs a Pile of Executive Orders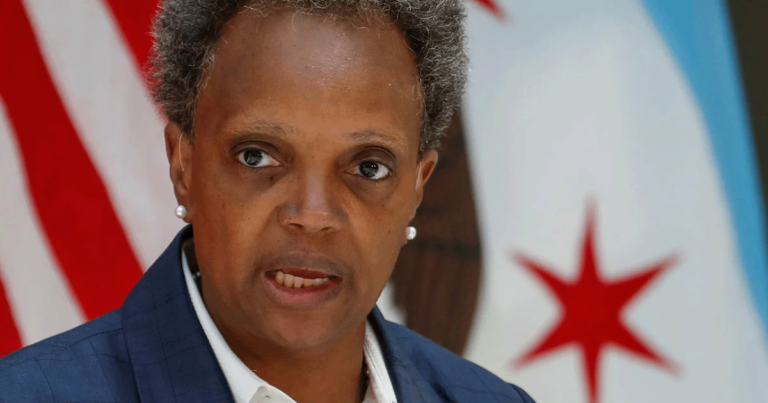 What's Happening:
Disgraced Lori Lightfoot lost her job as mayor of Chicago. How badly did she lose? Well, there was a runoff to decide which man should replace this leftist failure of a mayor. Under Lightfoot, the city has seen some of the highest jumps in violent crime we've ever seen. Lightfoot's only excuse was to non-existent Republicans in city government.
Voters gladly dumped this woman, who left office this week. But before leaving, she issued one last parting shot to cripple the Windy City. Actually, make that ten parting shots. The incoming mayor will have a heck of a time cleaning all this up.
From the Chicago Sun-Times:
On her final full weekday in office, Mayor Lori Lightfoot left a surprise farewell gift for her successor as she handed down a flurry of executive orders, aiming to leave a final mark from her administration — and apparently trying to box in Mayor-elect Brandon Johnson on a variety of issues.
How pathetic. Seemingly bitter that she was voted out, Lightfoot signed a bunch of orders as she left office. Even liberal newspapers assume these were to box in her replacement, Brandon Johnson.
What were some of the woke orders she signed? Lightfoot created a pension fund for useless government workers out of a "budget surplus." She ordered the city comptroller to push her own welfare programs after she's gone.
She signed orders creating new delegate agencies to push her own "redevelopment" plan. It appears Lightfoot threw a bunch of useless demands as she went out. If the new mayor doesn't want all this to happen, he'll have to rescind these orders the moment he enters office.
Which means, he's not coming in on a clean slate. He'll have to clean up this mess Lightfoot left for him–doing so publicly.
So much for party loyalty, huh? Lightfoot lost to a fellow Democrat. But instead of giving him a leg up as he enters office, she sabotages him. Hey, she'd been doing that to the entire city for years, why wouldn't she do it to her replacement?
We'd like to say that Chicago has better days ahead of it, but let's get real. Voters replaced one woke mayor for another, someone who will push his own flavor of far-left policies.
Key Takeaways:
Outgoing Mayor Lightfoot left office by signing a pile of woke orders.
The orders push a bunch of demands, dumping them into the new mayor's lap.
The incoming mayor will have to rescind each of these orders on his first day.
Source: The Chicago Sun-Times