Rush Limbaugh And Donald Trump Team Up, Promote Book That Predicts A 2020 Landslide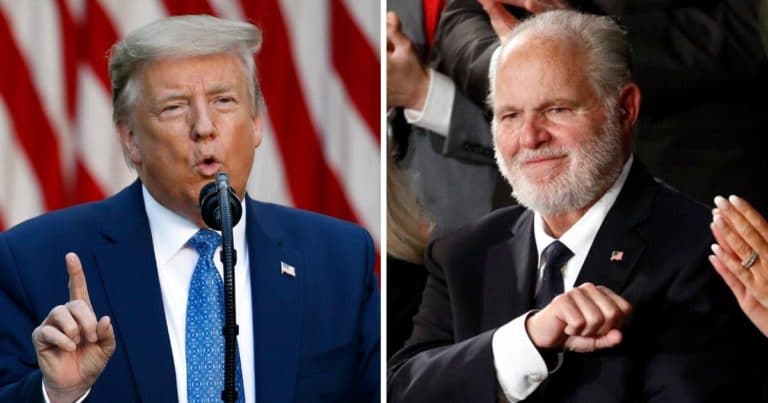 The mainstream media is making much of an upcoming book by former National Security Advisor John Bolton.
He claims to reveal a variety of secrets about the Trump administration, in an apparent attempt to smear the president.
But there appears to be another book making waves that has largely been ignored by the media.
It is predicting a major victory for Donald Trump in November. And it's already a best-seller:
Rush Limbaugh, the nation's top talker, is praising David Horowitz's new book "BLITZ," noting that it predicts President Donald Trump will not only win in November, but beat former Vice President Joe Biden by a landslide…

"BLITZ" was released last week and has already soared to the top of the bestseller lists, including appearing as a number one bestseller on Amazon.
And from Trump's Twitter account:
"BLITZ, Trump Will Smash the Left and Win", by David Horowitz. Amazon #1 Bestseller. Call 800-691-0022 Hot book, great author!
Why it matters:
The mainstream media has been parading around several recent polls (by their own outlets), that predict a major victory for Joe Biden in November. Yet they appear to be ignoring this development.
Not only is David Horowitz predicting a Trump landslide, many Americans agree as evidenced by the book's best-selling status.
Limbaugh praised the book saying, "Biden cannot beat Trump." He pointed to the Democrat's apparent mental decline: "The guy can't string together two sentences."
Horowitz predicts race will be the defining issue for 2020—saying Trump has made inroads into the black vote.
This comes as Democrat-aligned Black Lives Matter stirs up unrest and violence across the country.
he media has whipped up race, blaming police and "systemic racism" for black Americans' woes.
Horowitz's points to Trump's record on helping black Americans, including bringing back jobs, prison reform, school choice, and police reform.
Key Takeaways:
Trump and Rush Limbaugh have praised David Horowitz's new book: "BLITZ"
The book predicts Trump will win the 2020 Election by a landslide.
Limbaugh pointed to Biden's apparent decline; Horowitz focused on Trump's successes on race.