Lindsey Graham Sideswipes Democrats – After Impeachment, Lindsey Plans To Investigate Joe Biden And Whistleblower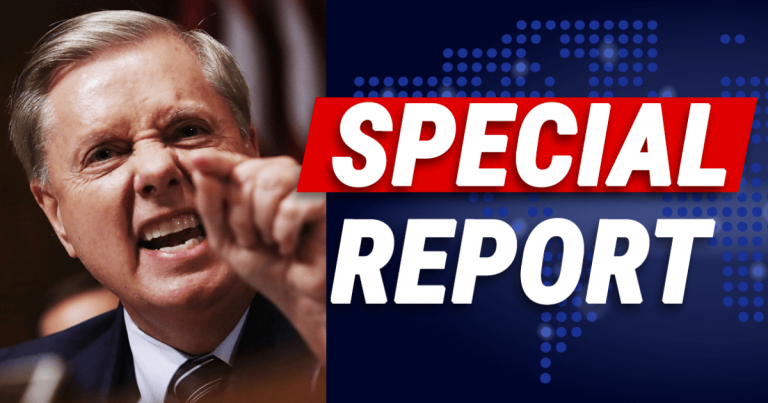 After a long and frustrating road, the impeachment train is finally coming to an end. But other things are just heating up.
It looks like the Senate will vote to convict or acquit Trump this Wednesday. We can assume they will acquit since it would take a massive 2/3rd majority to remove Trump from office.
But even as we see the light at the end of the tunnel, Democrats are promising retribution. Some in the House want to impeach Trump again.
Some Democrats have even said there is no limit to how many times they can impeach him.
But these liberals might want to take a step back.
Because Sen. Lindsey Graham is planning an investigation that will have their heads spinning.
From the Washington Times:
The Senate will investigate the whistleblower who set off the impeachment of President Trump, Senate Judiciary Committee Chairman Lindsey Graham said Sunday…

He said that investigations into the whistleblower and former Vice President Joseph R. Biden's dealings in Ukraine, two issues at the heart of the impeachment charges against Mr. Trump, with continue to be investigated by the Senate after the president's impeachment acquittal that is expected this week on charges of abuse of power and obstruction of Congress.
Ahem: FINALLY!
Sen. Lindsey Graham confirmed that the Senate Select Committee will be looking into the whistleblower who started the impeachment push.
Graham also promised that the Senate will continue to investigate Joe Biden and his dealings with Ukraine.
It looks like this all started because Trump wanted to get to the bottom of Hillary and Joe Biden's Ukrainian connections.
Some even say the Democrats launched their impeachment campaign to block this investigation.
In addition to all that, many have wanted answers about this still secretive "whistleblower."
You remember, the unnamed man who accused Trump of wrongdoing, even though he was not a witness to anything that happened?
The transcript of Trump's call actually contradicted some of the claims the whistleblower made. Yet Democrats still used his complaint to kick off impeachment.
Then, there was that whole matter with Adam Schiff's office. It seems the whistleblower was talking with Schiff's staff—leading some Americans to believe this was a setup from day one.
But we can at least be confident that someone is getting to the bottom of this.
Lindsey Graham is not a man you want to trifle with.
In recent years, he's turned into a lion. He stood beside Trump as the Democrats attacked his Supreme Court pick. He stood by Trump as the Democrats tried to remove him from office.
And now it appears he'll get to the bottom of this whistleblower affair.
SHARE if you support the Senate's new investigations!
Source: Washington Times