Rachel Maddow Tries To Silence Trump – Begs Media To Shut Down Donald's Coronavirus Briefings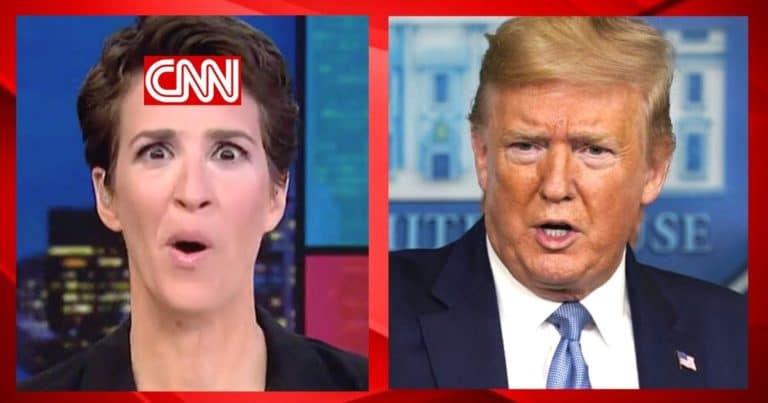 One of MSNBC's biggest mouths—Rachel Maddow—wants to silence the president during this crisis.
The president has been working tirelessly to battle this disease. And his daily press briefings might be the only time Americans get real information about the situation.
Most mainstream news outlets are content with spreading more fear and panic. The president, on the other hand, is offering insight and even a little bit of hope.
I guess that's too much for a liberal host to put up with. Maddow doesn't like it that the president is communicating so much with the American people.
And she's demanding the networks censor him.
From Washington Examiner:
MSNBC host Rachel Maddow said news networks should not air the daily White House coronavirus briefings, arguing President Trump has used them to share "misinformation" about the pandemic.
Maddow accused Trump of sharing "misinformation" and is demanding networks not air his daily briefings.
Wow. Talk about a peak case of Trump Derangement Syndrome. Right now, there are a lot of "experts" posting articles and making comments about COVID-19 online and on TV.
Very little of it, you can assume, is accurate or helpful for the everyday American.
What can be very helpful? Seeing the president and his task force giving updates from the White House.
The administration is leading the charge to defeat this virus. Anything they share can be considered accurate and useful.
The last place I'd go for helpful information right now is MSNBC or Maddow. Hell, I wouldn't go to her even in good times.
Maddow accuses Trump of spreading "misinformation." Really?
Trump gives updates given to him by the CDC, FEMA, state leaders, and others on the front lines. Maddow is a biased newswoman with a history of hating conservatives.
Who are you going to believe?
Do you want to know what I think? Maddow is watching Trump's approval rise during this crisis. With each day, Americans are watching Trump working tirelessly to keep us safe.
That is only helping his approval—and re-election chances.
Maddow and the left-wing news can't stand that! So, her strategy? To claim Trump is spreading misinformation and have him shut down.
Sorry, Maddow, but you don't make the rules. Even if left-wing networks block his briefings, we all have the Internet.
We can easily stream them on a number of platforms. So, nice try.
SHARE if you think Rachel Maddow is the one who should be shut down!
Source: Washington Examiner