Major Cities Cancel July 4 Fireworks – You'll Be Furious at What They're Doing Instead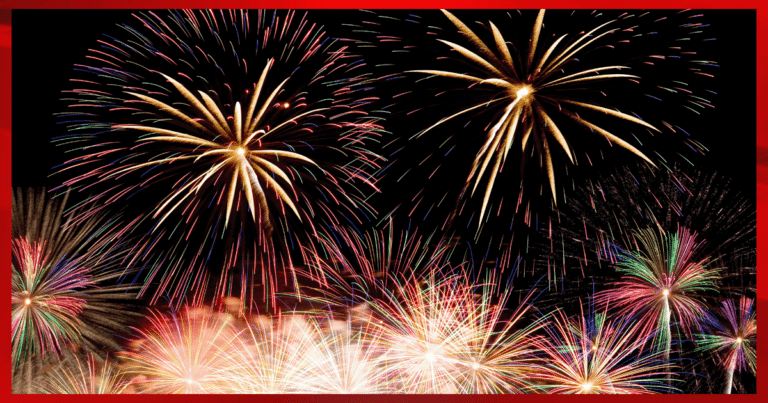 What's Happening:
Is there anything the left doesn't ruin? Democrats ruined cars with "EVs." They ruined movies with woke propaganda. We can't even have plastic straws, because they claim it hurts the turtles. But it seems Democrats won't stop until everything we love and enjoy becomes a miserable chore.
You thought they'd stop at the 4th of July, right? Wrong. These are the same people who claim our Founder Fathers were racist. The same people who push CRT in public schools. And now, to "celebrate" the 4th, many cities are ditching the classic, universally-loved fireworks show… for this.
From Breitbart:
Cities across the country are ditching fireworks and opting for a more environmentally friendly patriotic celebration with a drone light show.

Both Salt Lake City, Utah, and Boulder, Colorado, will be celebrating the 4th of July with its first drone show. Salt Lake City Mayor Erin Mendenhall said drones are a "safe and sustainable alternative to fireworks."
Yes, drones are "safe and sustainable" until their batteries run out and they careen into the crowd. Or until their batteries totally die and get dumped into a landfill, leeching poison into the earth for hundreds of years.
Several major cities are canceling fireworks displays for the cold, alien experience of a drone "light show." Instead of the fun of watching the burst of the rocket's red glare, Americans will sit in silence as weird little robots buzz around making odd shapes.
Pretty appropriate for a political party that wants to neuter our children and tried to lock us up in our homes for two years!
Why does the left hate fun? Some of them claim fireworks are dangerous. Yet we've been using them to celebrate the 4th for decades. Entire families have run fireworks businesses for generations. They know how to safely and effectively set off these fireworks.
Yet, these days, everything has to be ruined by the "green" mafia. They won't rest until even America's birthday is a sterile, dull, and forgettable event.
If I lived in any of these cities, I drive miles to find a real fireworks show.
Key Takeaway:
Several major cities are canceling 4th fireworks show for drones.
These city mayors are claiming drones are "safe and sustainable."
Source: Breitbart