Manchin Just Rocked Biden's Democrats – Joe Knocks Bernie Out Of Driver's Seat, He's In Charge Of Biden's Spending Bill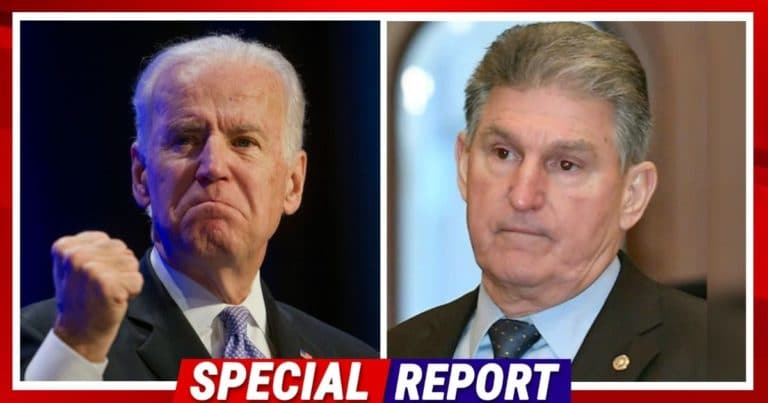 What's Happening:
Not that long ago, Democrats in Congress were convinced that they were about to pass the large spending bill in U.S. history. Now, they might not even get a penny passed, thanks to Joe Manchin.
"Biden's" spending bill was in fact designed by Bernie Sanders and his socialist allies. The massive bill, which would have cost $3.5 trillion, had the potential to balloon up to $6 trillion.
But signs are pointing that Sanders is out and Manchin is now running the show. From Politico:
We heard extensively from Sen. JOE MANCHIN (D-W.Va.) yet again this morning. During a gaggle with reporters, he (1) reiterated he has still not budged beyond $1.5 trillion as a top-line number for the reconciliation bill…

The reconciliation bill is gradually shifting from a Sanders product that encapsulates the policy thinking of the modern progressive movement to a much more business-friendly and targeted package of programs reminiscent of 1990s Clintonism.
Reports are coming out that Sander's far-left spending agenda is getting increasing forced out of the spending bill. Joe Manchin, because of his key vote in the Senate, is taking a greater lead in crafting this bill.
In a rare move, President Biden invited Manchin to his personal home along with Majority Leader Schumer to make a deal. And along the way, Manchin has now gutted Bernie's socialist agenda, including the carbon tax, expanded Medicaid, and the high price tag.
Progressives are furious as all their chestnuts are getting eliminated from the bill. It is shaping up to be more "Clintonian," a business-friendly proposal that has less government spending.
That's the very thing Sanders and his cohorts hate—as they were hoping to hammer private business and expand government overreach.
But it doesn't look like they have much of a choice. Manchin played a careful, political game. He refused to vote on the bill Schumer and the left was pushing. He denied them a vote, suggesting it should be put off until next year. Finally, Democrats were forced to seek his input.
Machin used that to push a bill that is much more moderate (but still expensive), focusing on policies that would not outrage the coal-loving folks back in West Virginia. But it is still uncertain if the party can agree on a final bill.
The senator says he's closer to yes, but not all the way. Progressive can sabotage the bill by refusing to support it. Radicals in the House might torpedo it and the bipartisan bill. Manchin might, after all the negotiations, refuse to vote yes due to higher taxes and price tag.
We'll see what happens.
Key Takeaways:
Joe Manchin appears to be in charge of the latest spending bill.
Sanders' radical policies have been stripped out of the trillion-dollar package.
Progressives are outraged that a moderate is in charge of this deal.
Source: Politico