Joe Vs. Joe – Democrat Manchin Just Turned On Biden, Claims Ending Keystone Is Swapping Oil From Canada With Oil From Venezuela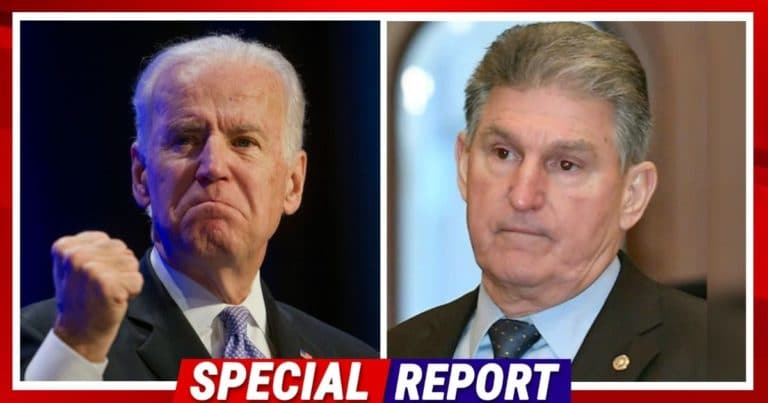 What's Happening:
To the shock of just about everything, Joe Biden's team is doing a good job… at alienating his own party.
So far, they've ensured that moderate from West Virginia, Joe Manchin, won't be on board their agenda.
They sent Kamala Harris to his backyard without telling him. They pushed a relief bill that he doesn't agree with.
Now, he is fighting back, condemning one of Joe's worst—and most controversial—decisions.
From Daily Wire:
Sen. Joe Manchin (D-WV) slammed President Joe Biden on Tuesday for killing the Keystone XL Pipeline, noting that the pipeline was a safer way to transport oil and that he would rather get oil from America's allies than America's enemies…

"The bottom line is in that, I'm an all-in energy person, Bret, and we have to have energy basically and not depend on foreign energy. So we have to have the heavy crude. I rather it come from Canada than I would from Venezuela."
Manchin, for his part, provided a dose of common sense in support of the pipeline. He explained he's seen trains carrying crude oil "blow up" while going through West Virginia.
He said the pipeline would have been a safer and more effective measure to transport oil into the country.
The senator asserted his support for energy, saying he's an "all-in energy person." Not surprising, considering his state's reliance on the energy industry.
He condemned Joe Biden's partisan and heavily-controversial move to suspend the Keystone XL pipeline, saying it will result in us buying oil from our enemies, not our allies.
Manchin said that pipeline would have ensured that American bought oil from Canada, a longtime ally. Now, with the transporting of Canadian oil in question, we are more likely going to buy oil from places like Venezuela.
Ironically, the pipeline would have been a cleaner, safer way of transporting oil than traditional means (like trains or ships). But Biden was bowing to the radical environment lobbyists, who want to eliminate fossil fuels 100%.
That will never happen in our lifetime. This move will only hurt Americans at the pump.
Perhaps Congress can provide a permanent solution. But it will take many more lawmakers besides Manchin.
Key Takeaways:
Joe Manchin condemned Biden's canceling of the Keystone XL pipeline.
He said it was safer than moving crude via trains.
The senator said this will lead America to buy oil from our enemies.
Source: Daily Wire