Days After Manchin Votes To Remove Trump – Joe Turns The Tables On His Own Party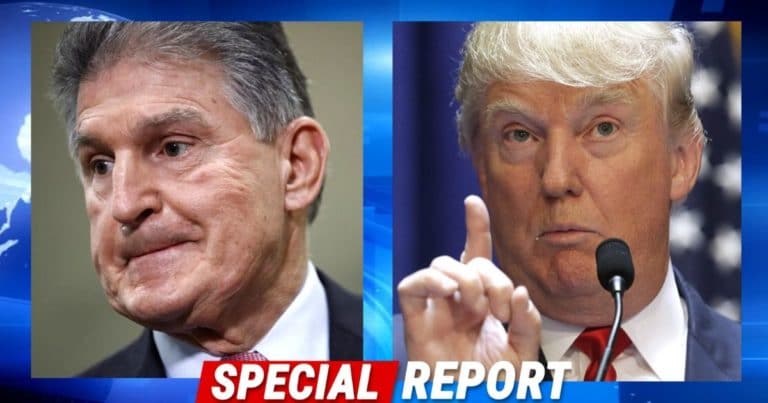 Sen. Joe Manchin from West Virginia just can't make up his mind. The man voted against Trump in the Senate impeachment trial.
(Even though he suggested he wouldn't weeks earlier.)
But, in the end, he comes from a very conservative state. West Virginia voted for Trump in 2016. Chances are, they'll do it again in 2020.
Does Manchin want his supporters outraged over his impeachment vote? Voters have long memories.
Looks like Manchin is trying to win back West Virginia, while shocking his leftist colleagues.
From Fox News:
Democratic Sen. Joe Manchin, D-W.Va., said he could potentially endorse President Trump for reelection just a week after he voted to convict the president for abuse of power, according to a report published Thursday.

"Everybody can change," Manchin told Politico. "Maybe the president will change, you know? Maybe that uniter will come out, versus the divider."
Wow. After voting against Trump, Joe is now considering endorsing the president in 2020.
The man talked about how after 2018 (when Trump endorsed his rival), they were eating lunch together the next week.
That might be so, Joe, but it's not the same as impeachment. You voted to remove the president from office over a phone call.
Not sure why Joe is flip-flopping now. He isn't up for reelection until 2024. But maybe he's afraid WV will follow Utah's lead with a recall bill?
President Trump had a few things to say about him.
From Twitter: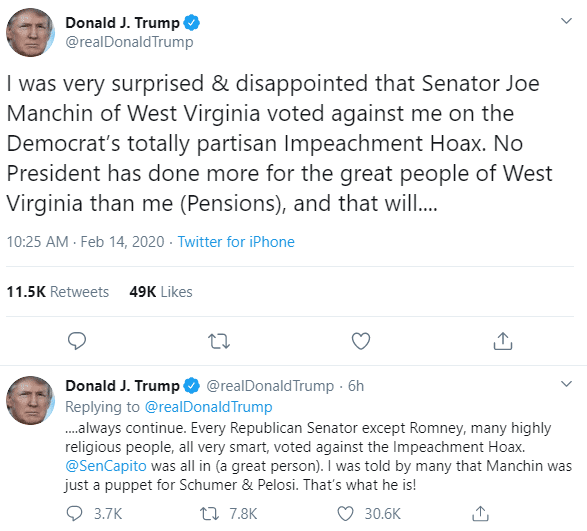 I was very surprised & disappointed that Senator Joe Manchin of West Virginia voted against me on the Democrat's totally partisan Impeachment Hoax. No President has done more for the great people of West Virginia than me (Pensions), and that will… always continue. Every Republican Senator except Romney, many highly religious people, all very smart, voted against the Impeachment Hoax.  @SenCapito was all in (a great person). I was told by many that Manchin was just a puppet for Schumer & Pelosi. That's what he is!
Doesn't seem like Trump is happy with Joe Manchin. In fact, he said he was surprised and disappointed that Manchin voted to convict.
He suggested in a follow-up post that Manchin is a puppet for impeachment-lovers Schumer and Pelosi. Pretty sad, if true.
Manchin has been one of the few Democrats in Congress that actually appears supportive of the president. On the other hand, he cast his vote in favor of his party's impeachment hysteria.
Does that sound supportive to you?
Maybe West Virginia should give him the Mitt Romney treatment?
COMMENT to tell everyone if you think the flip-flopper should STAY or GO!