After Mary Trump Plans Presidential Book Smear – New York Judge Blocks Her Temporarily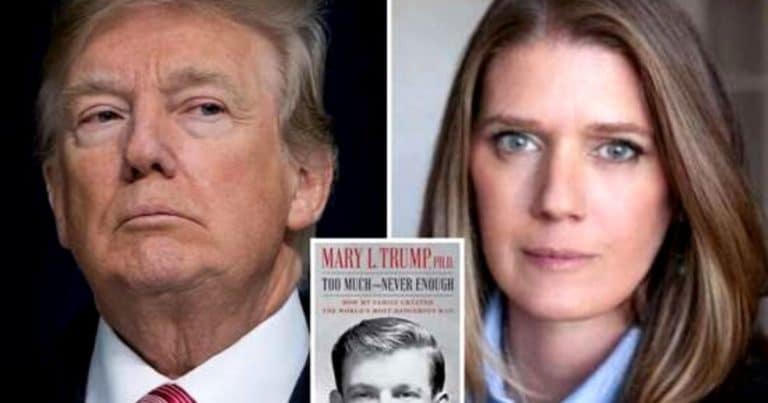 What's Happening:
It appears that a family member of the president was poised to release a "tell-all" book about the family. Mary Trump, a niece of Donald Trump, claimed she would reveal damaging family secrets about the Trump's.
Critics have pointed out the convenient timing of the book, just before the election, saying she was trying to hurt the president's re-election campaign.
Donald Trump's brother filed a lawsuit to prevent the book's publication. And he was granted a win:
A judge on Tuesday granted Robert Trump a temporary restraining order halting the publication of Mary Trump's upcoming tell-all, Too Much and Never Enough: How My Family Created the World's Most Dangerous Man…

The Trump siblings have maintained that the book, to be published by Simon & Schuster, violates the confidentiality clause that Mary Trump signed off on in the settlement of family patriarch Fred Trump Sr.'s estate.
Numerous "insiders" have published books in recent years, trying to tarnish Donald Trump's reputation. Most of them have been lampooned by even the liberal media as faulty and inaccurate. John Bolton recently released a book, to the panning of many.
But the trend appears to be a popular one, among those with a connection to the president. Whether their books are accurate or not, those associated with Donald Trump appear to be trying to cash in on their name.
This seems to be the first person within the Trump family apparently willing to turn on Trump to score a best seller.
The ruling, although temporary, might signal a big win for Donald Trump. If Robert Trump is able to block the book entirely, it could mean future so-called "tell-all's" will have a hard time seeing the light of day.
The trend of cashing in by trashing the president might come to a screeching halt.
Key Takeaways:
A judge put a temporary halt on Mary Trump's tell-all book.
The niece of Donald Trump claims to divulge information that would damage the family.
The ruling might help Trump prevent future books from coming out.
Source: The Daily Beast