After Maxine Calls For Violence Against Trump Fans, She Gets A Dose Of Her Own Medicine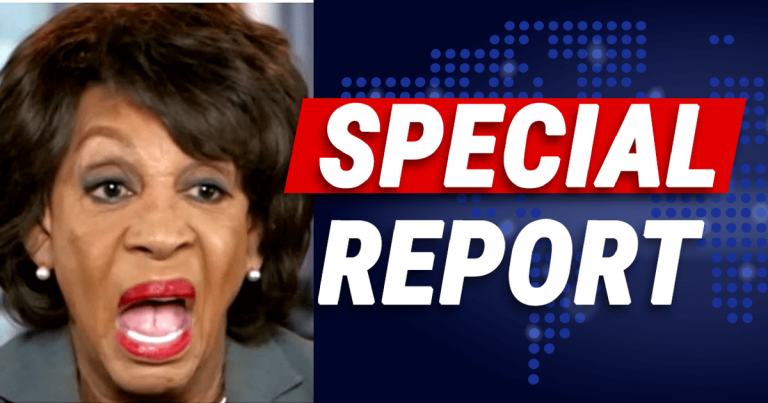 Maxine Waters is the biggest hypocrite politician on earth, and she just got what she deserved.
Is there anyone in politics more disgraceful than Maxine Waters?
This poor excuse for a congresswoman has not stopped demanding Donald Trump's impeachment. Not because he's done anything wrong, but because it gets her on television.
After White House press secretary Sarah Sanders was kicked out of a restaurant and harassed, Maxine Waters demanded her supporters do the same—to all conservatives.
She called on liberals to "push back" against Trump and his people: a deliberate call to violence.
Now, after months of vile, ugly, and divisive comments, the hack congresswoman had the audacity to make this big claim.
From Western Journal:
"Weeks after the California Democrat encouraged protesters to harass officials in the Trump administration, U.S. Rep. Maxine Waters is expressing concern that demonstrations against her could turn violent.
Specifically, she referenced the Oath Keepers, a group consisting of military veterans and former law enforcement officers that released a 'call to action' this week encouraging ongoing protests outside of her Los Angeles office and across the city…
According to Waters' assessment, the protesters are aiming to create further division with their call for an extended demonstration."
So, let me get this straight:
Maxine Waters spreads hate by attack the president. She uses vile and divisive words to stir up her brain-dead followers. Then she claims it's conservatives who want to get violent?
Recently, we've only see far-left radicals get violent. They show up at peaceful events, simply to attack conservatives. From Berkeley to Virginia, liberals have declared war on regular Americans.
Do you want to know the real irony? The Oath Keepers never showed. Waters' claim was completely fabricated. But guess what really happened?
There was no protest outside Maxine Waters office today. A group called #oathkeepers did not show up. Some counter protestors who came to support Waters burned an American flag in the street. #maxinewaters #flagburning #flag pic.twitter.com/pafH7nJrWL

— Carlos Granda (@abc7carlos) July 19, 2018
That's right. Maxine's own supporters burned the American flag, saying it wasn't even their flag. They chanted hateful mantras and disgraced the country.
But in the end, are we really surprised?
Help spread the word: the only people we have to fear are liberals and Democrats!
Source: Western Journal