Maxine Waters Just Stepped Way Over the Line – She Slaps GOP House Members with Sickening Label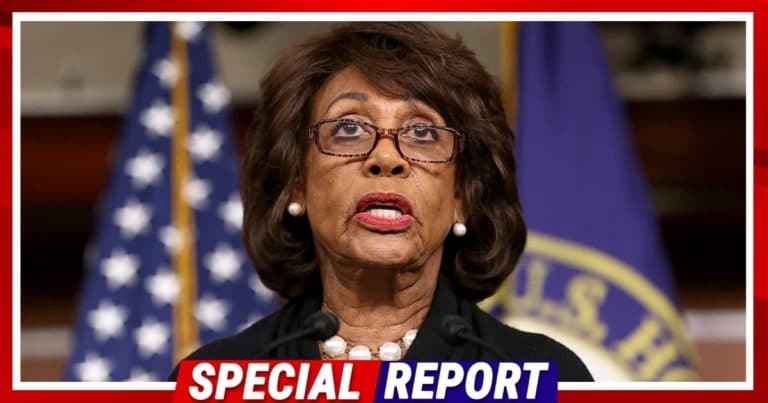 For the most part, Democratic Rep. Maxine Waters (CA) has been relatively quiet in recent months.
She wasn't particularly vocal during the contentious midterm elections, despite the fact that she remains one of the farthest left politicians in the country. It also makes her highly controversial in political circles.
But now she's getting headlines again — and this time, she really stepped over the line.
During an interview on MSNBC's "Ayman," Rep. Waters was asked if there was a possibility of police reform in Congress after the latest scandal.
Anchor Ayman Mohyeldin specifically pointed out the shift in control in the House, and wanted to know if the Republican-led chamber would take strides to overhaul law enforcement in the future.
Waters first said "we'll do everything we possibly can," but the problem is people like Marjorie Taylor Green.
Then she said (via Breitbart):
We have these right-wing conservatives who are, you know, we have domestic terrorists in the House of Representatives.

These people are extremists, so I am not optimistic that that is the way that it is going to happen until the people of this country really decide that they do not want it, and they are not going to elect people who act in the way that they act.
Calling political rivals "domestic terrorists" will likely garner you a lot of critics, especially when you toss in the word "extremists."
There is no evidence for the accusation so of course it isn't accurate, unless Rep. Waters can explain why certain elected officials in Congress qualify as "terrorists" in the country.
Lots of harsh words are being used frequently in Washington, and both sides are accusing their competitors of being "extremists." Unfortunately, that isn't anything new.
But going so far as to call them "domestic terrorists," without evidence, is problematic.
How these politicians interpret the views of the other side has changed, it seems: everyone who disagrees isn't just someone with a different opinion. Now they're dangerous individuals.
That sets a nasty precedent for the future, and erases any possibility of communication or negotiation — not a spot any Republic should be in.
We'll have to see if Rep. Waters walks back these comments, or at least offers to re-phrase her statement.
Key Takeaways:
Democratic Rep. Maxine Waters called GOP House members "domestic terrorists" and "extremists."
Waters didn't provide any evidence that proves these members are guilty of a "domestic terror" crime.
More politicians are using harder language in accusing the other side in D.C.
Source: Breitbart