Moments After Mayor Shuts Down New York City – He Call For A Government Takeover Of Major Industries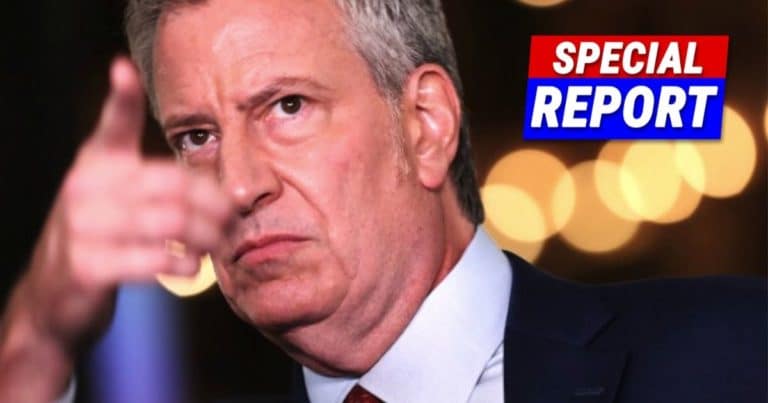 New York City seems to be one of the hardest-hit areas by the coronavirus. Mayor Bill de Blasio was forced to take strong action to limit the spread of the virus.
The city shut down major events and has forced many restaurants and bars to limit their hours. Many are closed altogether.
But the Democrat mayor is taking a step further. He seems to be taking advantage of this situation by calling for an un-Constitutional action by the government.
A takeover of major industries.
From Fox News:
New York City Mayor Bill de Blasio is arguing that the best way to tackle the coronavirus outbreak is for the federal government to take over critical private companies in the medical field and have them running 24 hours a day.
Bill de Blasio recommends that the federal government take over our medical industry. So, it can force private companies to run 24-hours-a-day.
Sure… because when we are facing a crisis, the thing we need most is a massive disruption of how these companies operate.
The most important industry right now is the medical industry. Not only hospitals but private companies are working overtime to provide relief. That includes companies that manufacture medicine, testing equipment, and supplies.
This is their time to shine. And these companies are partnering with the government to make sure this threat is beaten.
Why on earth should the government seize these businesses now? Why does de Blasio think the government can do a better job of running these companies… than the companies themselves?
If there was one surefire way of turning this situation into a catastrophe, it'd be that. The economy has already taken a hit, thanks to this disease.
The government taking over an entire industry? Well, that would sure to produce a recession!
We've already seen how private companies move much faster and more efficiently than the government.
The slow, lumbering bureaucracy of D.C. is not what we need right now. We need the federal government to clear the way so that the private sector can provide what we need.
Not a massive takeover.
SHARE to let de Blasio and left know we don't support a government takeover of our health industry!
Source: Fox News