GOP Fires Ultimatum at Top Biden Staffer – White House Days Could Be Numbered for DHS Secretary Mayorkas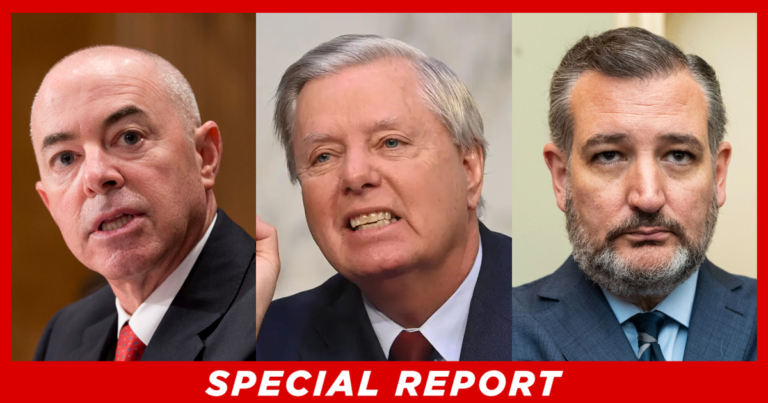 What's Happening:
Despite what the liberal media and Democrats say, the Southern border is still out of control. An estimated 5 million (and growing) migrants have crossed over illegally. Biden has been busing hundreds of thousands across the country.
Meanwhile, the man he put in charge of protecting our nation does nothing. In fact, he does worse than nothing, because his policies are actually encouraging more illegal entry.
So, with the midterms just days away, Sens. Graham and Cruz are issuing a dire warning for DHS head Mayorkas. From Fox News:
GOP Sens. Lindsey Graham, R-S.C., and Ted Cruz, R-Texas, joined forces to send a message to Department of Homeland Security Secretary Alejandro Mayorkas that they have "grounds for impeachment" if he fails to act swiftly in correcting his "gross dereliction of duty" at the southern border…

"Your failure to faithfully enforce this nation's immigration laws and willful blindness to the very real humanitarian crisis at our southern border amounts to a gross dereliction of duty and a violation of your oath of office," the senators wrote.
Woah, this is getting serious.
For a while now, Republican lawmakers have been challenging Joe Biden and his DHS head, Alejandro Mayorkas. Democrats are ignoring the crisis at the border, but it is only getting worse.
And the man largely responsible for this crisis is Mayorkas, who is responsible for securing the border and deporting illegal entrants. Sens. Graham and Cruz have revealed that the border has deteriorated significantly since Mayorkas took over 19 months ago. In that short time, millions of migrants have flooded the country. The damage to border towns is incalculable.
And what this will do to the rest of the country will be felt for years to come.
Yet Mayorkas denies everything and continues to do the very things that are hurting our country. The senators stated clearly that what he is doing is "grounds for impeachment." Those aren't empty words. If Republicans retake the majority in Congress next year, Mayorkas will be the first on the chopping block.
But let's not forget that Mayorkas is not doing this alone. He is only following what Biden and the rest of the administration are doing. Biden has turned a blind eye to the border. He refuses to even acknowledge the crisis.
So, if Mayorkas is to be impeached over this disaster, Biden isn't far behind.
Key Takeaways:
Graham and Cruz warned Mayorkas that he could be impeached over the border.
The Republicans blasted Mayorkas for failing to enforce U.S. immigration laws.
Since Mayorkas took over the DHS, the border has been overrun with illegal immigration.
Source: Fox News