Days After McAuliffe Loses Virginia For Democrats – Report Claims That President Biden Wants To Hire The Defeated Candidate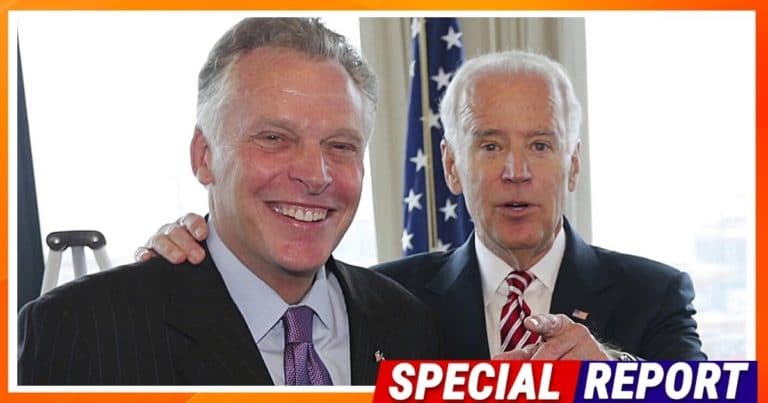 What's Happening:
What can be said of Terry McAuliffe, failed Democratic candidate for Virginia governor? We know he's not very good at campaigning. Even though he knew voters supported parents' involvement in schools, he sided with the teacher's union, telling parents they had no say in their children's education.
He made plenty of gaffes which exposed his lack of ideas and leadership. The list of mistakes and missteps is long. By all appearances, he is not someone that should be in politics or government at any level.
So, we're in no way surprised to learn he might end up working for Joe Biden!'
From Fox News:
Fresh off his loss in Virginia's gubernatorial race to Republican Glenn Youngkin, Democrat Terry McAuliffe may already be close to having a new job in nearby Washington, D.C., a new report said.

According to Punchbowl News, McAuliffe has interested suitors in the Biden administration who are looking to bring him on board.T
Really? Is Biden that hard up for staff members that he'd call on a failed Democratic candidate to fill a post in his administration? Is there nobody in D.C. with half a brain to help this administration? McAuliffe is literally a loser—who could not win a race in a blue state.
Yet Biden might give this guy a comfy job in D.C.? And they wonder why we call it a festering swamp?
As ridiculous as this is, it is pretty consistent with the Biden administration. From what we've seen of his staff, we are not impressed. He picks the worst people for high-ranking posts, often activists who fought against the very agencies they now lead. Many of his people (especially in the State Department and press office) cannot handle the responsibilities given to them.
Or is it normal for the Secretary of State to get into an argument with Chinese diplomats—and lose?
Word is McAuliffe's potential post has not been announced, but chances are it will not be right for him. We all know Democrats pick political allies and people they owe favors to for administration posts. But this is getting out of hand. Biden put his neck out there to help this guy. He failed.
Why isn't he kicking McAuliffe to the curb? Why not pick something with brains and intellect?
I guess you can't find people with brains when you don't have any yourself.
Key Takeaways:
Joe Biden is rumored to be offering failed Democrat candidate McAuliffe a post.
McAuliffe lost the VA governor's race to Republican Youngkin in a major upset.
Biden's administration is staffed with many people seemingly wrong for their jobs.
Source: Fox News