Kevin McCarthy Goes After Democrats Over Investigation – He Says Intel Shows There's "No Way" Eric Swalwell Should Keep His Post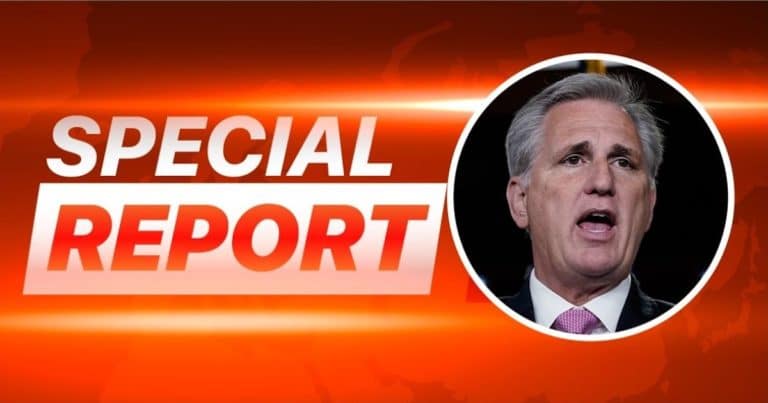 For weeks now, Republicans and Conservatives have been questioning whether or not Rep. Eric Swalwell should keep his post in the House Intelligence Committee.
Swalwell has been under heavy scrutiny since his ties to a suspected Chinese spy made headlines. Ever since that news broke, many have questioned Swalwell's position in Washington D.C.
Now, House Minority Leader Rep. Kevin McCarthy isn't just questioning it — he's saying Swalwell needs to go.
McCarthy came to this conclusion after being part of a classified briefing that only included himself and House Speaker Nancy Pelosi (D-CA).
Obviously, whatever McCarthy heard at that briefing made it clear to him that Swalwell can't remain in the House Intelligence Committee.
There's either too much evidence against him, or simply too many questions that need answering. Either way, Swalwell could be a risk in the eyes of McCarthy.
As he told Fox News:
No one that was in that room could walk out and say Eric Swalwell should be on the intel committee.

The one answer that I got out of that briefing was there is no way Eric Swalwell should continue to serve on the intel committee.
McCarthy's position is plain. And he's going to recommend that all intel committee members receive the "exact same" briefing, presumably so they can reach the same conclusion.
He said that if they're a member of the committee, "they've got to know the background of what has gone on."
This story came to a head when Axios reported about a woman named Christine Fang (or Fang Fang), who had started to forge connections with several important political figures.
This included Swalwell. And that report also claims Fang had sexual encounters "with at least two Midwestern mayors."
As for Swalwell, he hasn't offered to answer any questions concerning his apparent relationship with Fang. Though the more he declines to answer, the more Republicans may suspect his guilt.
McCarthy is definitely concerned. And as he finished:
I do not understand how this has continued this long… And I would never, never allow him on that committee.
Time will tell if Swalwell's dalliance with Fang will cost him his position. But it has already hurt his reputation, which could feasibly cost him down the road.
Many Republicans remain convinced that he could potentially be a security risk, and it's simply not an option to keep him on any intelligence committee.
Key Takeaways:
House Minority Leader Rep. Kevin McCarthy thinks Rep. Eric Swalwell should be removed from his position on the House Intelligence Committee.
He made the decision after being part of a private briefing with House Speaker Nancy Pelosi.
Swalwell's alleged association with a suspected Chinese spy is concerning to Republicans. And possibly risky from a security standpoint.
Source: Fox News