McCarthy Sends Biden White House into Panic – The Speaker Puts Joe's Latest Move on Notice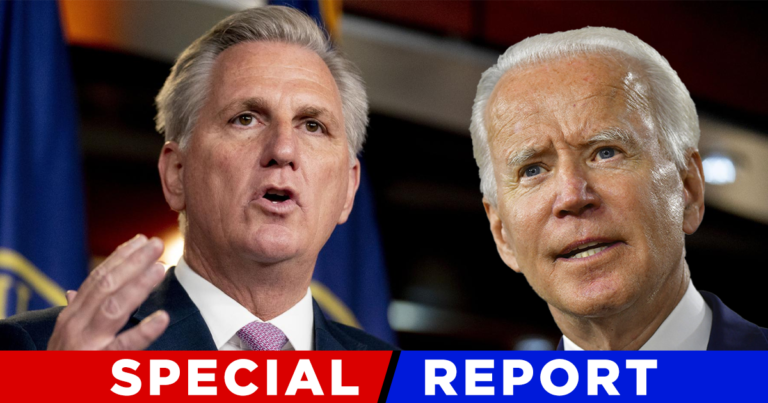 What's Happening:
This week, Americans were stunned to learn that Joe Biden's son, Hunter, was getting off scott-free. Despite pleading guilty to tax evasion, drug crimes, and illegally owning a firearm, he avoided jail time thanks to a deal made with federal prosecutors. Had you or I been guilty of a fraction of these crimes, we'd be put away for good.
House Speaker Kevin McCarthy is in no way happy with this result. The federal government bent over backward so that the "president's" son faced zero penalties for serious crimes. And now, McCarthy is letting Joe have it.
From The Post Millennial:
House Speaker Kevin McCarthy (R-CA) put the Biden administration on blast Tuesday, telling reporters that recent legal actions out of the US Department of Justice have continued to highlight "the two-tier system in America."

He told reporters, "If you are the President's leading political opponent, the DOJ tries to literally put you in jail and give you prison time. If you are the president's son, you get a sweetheart deal."
McCarthy exposed what many believe is a double standard in our justice system. He called it a "two-tier" system, in which Democrats get off easy while Republicans face heavy charges.
Right now, federal prosecutors are trying to convict a former president for holding onto paperwork. This is Biden's top rival in the upcoming election. Uh… and we're not to assume a massive conflict of interest?
Yet, Hunter Biden plead guilty to much worse than what Democrats are hounding Trump over. He gets a "sweetheart deal" and faces zero jail time. Why should this man, who has been exploiting his father's connections for years, get off easy?
As McCarthy sees it, our justice system is corrupt. Federal prosecutors, themselves Democrats, refuse to punish members of their own party. They bend the law to ensure their buddies get off easy. Meanwhile, the bend the law the other way, to make sure Republicans are condemned.
Just ask all those Americans wasting away in prison, over January 6.
If the federal government expects Americans to have even a shred of respect for it, it needs to reform. Democrats must be held accountable for their crimes.
If not, do we really have a country?
Key Takeaways:
House Speaker McCarthy blasted the DOJ for giving Hunter Biden a "sweetheart deal."
Hunter plead guilty to various crimes, but will not face a penalty.
This comes as the DOJ tries to convict Trump over holding onto paperwork.
Source: The Post Millennial