After Kevin McCarthy Runs into Speaker Trouble – Nancy Pelosi Could Orchestrate Picking the Next Speaker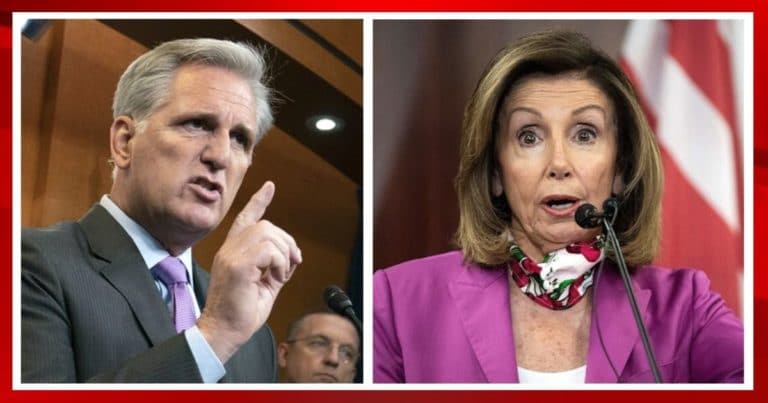 What's Happening:
For years House Republicans expected their minority leader, Kevin McCarthy, to become the next speaker. It was predicted by many that by this year, Republicans would flip the House, regaining the majority.
But the "red wave" many expected did not come. Republicans did take the House, but by a very thin margin. McCarthy is still in line to become speaker, but some are saying he is far from being a shoo-in.
From Newsmax:
A smaller than expected GOP House majority and a growing chorus of Republicans are voicing opposition to a bid for the Speaker's gavel by House Minority Leader Kevin McCarthy, R-Calif…

McCarthy publicly maintains confidence that he will win the Speakership, but five House Republicans have indicated they will not support him in a floor vote, likely putting him below 218, according to The Hill.
Some Republicans might oppose McCarthy's speakership. And some are saying this could give Pelosi the upper hand.
From The Hill:
While it has never been done before, the Constitution provides an opportunity to choose a Speaker who is not a member of the House. Seizing that option, a magnanimous Pelosi could persuade her colleagues to propose a distinguished Republican for the role.
Because McCarthy's path to speakership is so narrow, there could arise the scenario where Pelosi picks the next speaker. The Constitution does not require the speaker to be a House member (though they've always been a congressman).
Pelosi could suggest a Republican outside Congress and convince Democrats and a few Republicans to vote for them. If Pelosi is successful, she can pick someone that is closely aligned to Joe Biden and Democrats, also known as a RINO.
This scenario is only possible because McCarthy failed to secure the large majority Republicans were hoping for. If they had regained the House by twenty or more seats, Pelosi would be powerless.
But it seems, at least in some states, Republicans failed to adapt to changing voting norms to gain an advantage. They were steamrolled by Democrats because they refused to use lawful methods like mail-in ballots, ballot harvesting, and early voting.
Although this scenario is a long shot, it is very possible. But could Pelosi find a Republican that would impress Democrats and a few House Republicans? That seems doubtful.
Key Takeaways:
Kevin McCarthy's shot at the speakership is threatened by a small majority.
Pelosi could nominate an outsider and convince Democrats and a few Republicans to vote for them.
This could only happen because a few Republicans don't want to vote for McCarthy.