McCarthy Delivers the GOP a Major Warning – If Republicans Play Games, Dems Could Pick the Speaker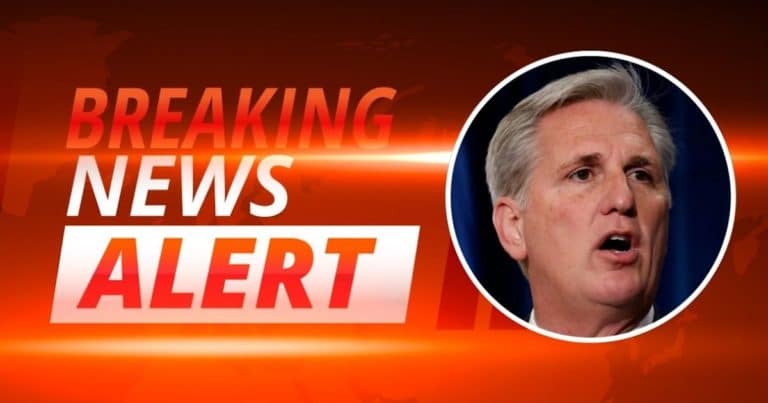 Republicans managed to reclaim the House majority this midterm season, even though they didn't get the massive "red wave" they wanted.
However, that majority might not mean much if Democrats get their way. In fact, it could mean losing the key spot in the House.
Current House Minority Leader Kevin McCarthy (R-CA) sounded the alarm on Newsmax's "Spicer and Co."
He's warning Republicans that if they "play games," Democrats might actually "end up picking the next House Speaker."
The topic came up when anchor Spicer asked McCarthy how he'd get the 218 votes he needs to become the next House Speaker.
In reply, McCarthy said "5 people on any side can stop anything," and it's important for Republicans to work together (via Breitbart):
We will only be successful if we work together, or we'll lose individually. This is very fragile, that we are the only stopgap for this Biden administration.

And if we don't do this right, the Democrats can take the majority.
What he means is that Democrats could have more influence over the Speaker role, which would be a huge detriment to the GOP seat majority.
McCarthy reminded Republicans that since he's been their leader in the chamber, "we have not lost seats."
And he added:
We've won seats each and every time where the rest of the Republicans have lost.

So I think at the end of the day, we'll find the right path, and we'll make the American public proud of what we're able to accomplish and turn this economy back around because we're going to focus on the people, not on politics.
But the bottom line is that if Republicans "play games," as McCarthy says, they could actually lose their statistical edge in the House.
They hold the majority in seats, but getting the wrong Speaker would be disastrous for the supposed controlling party.
For the time being, most assume McCarthy will become the next Speaker — but with a lesser majority, 218 isn't a foregone conclusion.
With 2023 just around the corner, Republicans are hoping to have more of a say in D.C., and that will certainly require a strong hold on at least one of the chambers.
Key Takeaways:
GOP leader Kevin McCarthy warned that Democrats could "take the majority" in the House.
He means that if Republicans "play games," it'll be Democrats who have a greater influence over the new House Speaker.
It's important for the GOP to hold a strong position, as they did not win back the Senate after midterms.
Source: Breitbart