McCarthy Strikes Democrats Hard as New Speaker – Kevin Plans to Kick Out 3 Top Liberals From Their Committees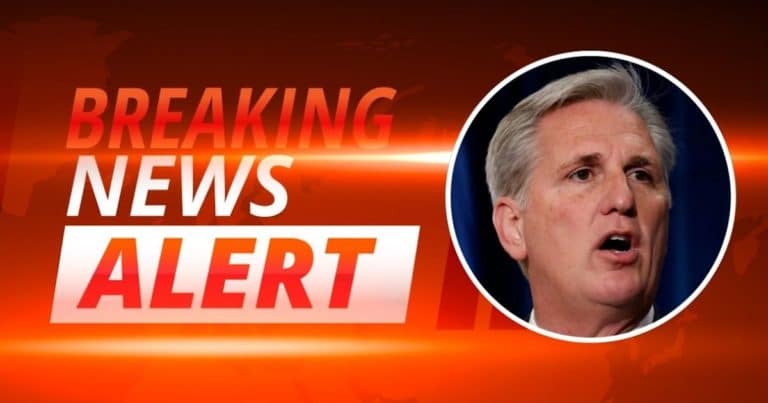 House Minority Leader Kevin McCarthy (R-CA) will be the next Speaker of the House, and it sounds like he's already planning to make waves.
Republicans reclaimed the majority in the House after midterm elections, and current House leader Nancy Pelosi has announced she'll be stepping down. Shortly after, the GOP nominated McCarthy.
And now, we hear he's planning a bombshell — he's going to remove 3 key Democrats from their committees.
When Republicans officially take control in January, they've got lots of ambitious plans. This includes investigating the Biden family and probing DHS about the ongoing border crisis.
They will also seek to take full control of various important committees. In the past, McCarthy has vowed to remove certain Democrats from their positions.
He's going to keep that promise according to what he said on Fox News' "Sunday Morning Future," which means that three of the most recognizable leftist leaders will be booted from their chairs.
And he likely won't waste any time, either:
House Minority Leader Kevin McCarthy, R-Calif., on Sunday vowed to remove Democratic Reps. Eric Swalwell, Adam Schiff and Ilhan Omar from their congressional committees when Republicans retake control in the new Congress.

During an appearance on Fox News' "Sunday Morning Futures," McCarthy told anchor Maria Bartiromo that he will keep the promise he made in January to remove Swalwell and Schiff from the House Intelligence Committee and Omar from the House Foreign Affairs Committee.
Obviously, this doesn't mean the three Democrats will be removed from the House entirely. However, their removal from these critical committees is very significant in terms of the balance of power.
McCarthy cited Swalwell's well-documented connection with a Chinese spy, as well as Schiff's pushing of the Steele dossier.
He said if Swalwell can't even get security clearance in the public sector, he certainly shouldn't have any security clearance regarding American secrets. And as for Schiff and Omar, he stated:
You have Adam Schiff, who lied to the American public time and again – we will not allow him to be on the Intel Committee either.

Look at Congresswoman Omar, her antisemitic comments that have gone forward. We're not going to allow her to be on Foreign Affairs.
McCarthy added that the GOP will investigate antisemitism in colleges and universities, and "make sure that America does have the freedoms that we said we would keep, and we will stand up to it as we move forward."
McCarthy needs 218 votes in January to solidify his position. But with the GOP slated to hold only between 220 and 224 seats, nothing is guaranteed.
Even so, it's clear that with the majority, Republicans will make strong moves to combat the overwhelming far-left tide in Washington.
Key Takeaways:
As new House Speaker, Kevin McCarthy said he would remove 3 big-name Democrats from Committees.
Eric Swalwell, Adam Schiff, and Ilhan Omar are in his crosshairs.
He cited Swalwell's association with a Chinese spy, Schiff's promotion of the Steele dossier, and Omar's antisemitic comments.
Source: Fox News