Mitch McConnell Dominates Schumer And Pelosi – He Officially Has The Senate Votes To Block Their Witness Demands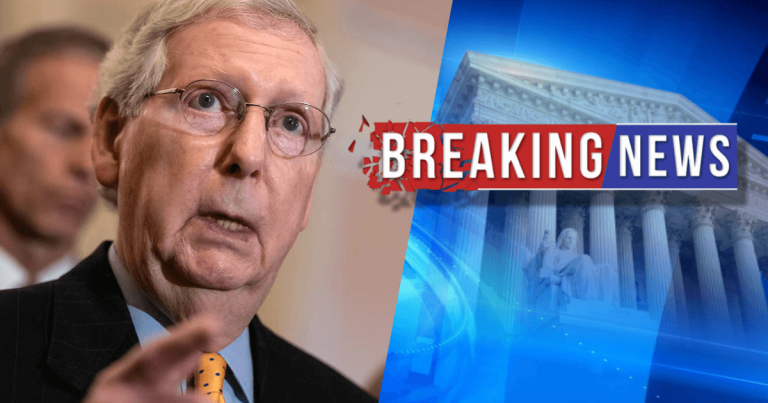 Senate Majority Leader Mitch McConnell is fed up with the Democrat impeachment scheme.
The left put together a flimsy case—and now they won't even send over the articles.
Pelosi and Schumer want to dig for more dirt. They know their case is doomed, so they think they can scheme some more.
They seem to think Trump is guilty until proven innocent. And that they can keep looking for evidence, no matter how many times his name is cleared.
They even thought they could bamboozle moderate Republicans to back their plan.
Too bad, Democrats, but you failed again.
From The Hill:
Senate Majority Leader Mitch McConnell (R-Ky.) has the votes to quash Senate Democratic Leader Charles Schumer's (N.Y.) demands to require additional witnesses testify at the start of President Trump's impeachment trial.

Two key moderate senators, Susan Collins (R-Maine) and Lisa Murkowski (R-Alaska), on Monday evening, backed McConnell's position that the Senate should follow the precedent of the 1999 Clinton impeachment trial and defer until later in the process the question of calling additional witnesses.
I really hope Democrats are getting used to losing. Because it happened again when Senators Collins and Murkowski backed McConnell.
They said they will follow his lead in deciding which witnesses if any, they will bring up during the Senate trial.
Plenty of Republicans have mentioned witnesses they want to hear from, including Huner Biden, Adam Schiff, and the infamous "whistleblower."
Schumer, on the other hand, clearly wants to find anyone that is willing to throw Trump under the bus. He even mentioned former staffer Bolton, whom Schumer just assumes will bad mouth the president.
All this is a waste of time. Democrats know Trump did not commit "high crimes" worthy of impeachment.
They just want another circus for the cameras, like the House inquiries. They really think all this nonsense will result in Trump's defeat in November.
But Senate Republicans are putting a stop to this. They are refusing to call new witnesses until they get the articles and proceed according to established rules.
McConnell is not going to let Democrats call the shots. He is going to give the president a fair trial, including the chance to defend himself.
Trump will clear his name and humiliate the Democrats and D.C. swamp dwellers who are trying to take him down.
Do you think Trump will succeed?
SHARE if you're ready for this impeachment charade to be over!
Source: The Hill