After McConnell Stalls On Obamagate – President Trump Orders Him To 'Get Tough And Move Quickly"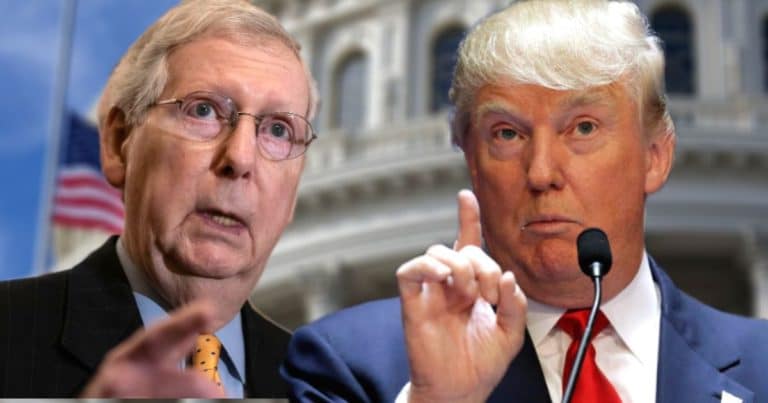 Many Republicans and Conservatives are frustrated with Senate Majority leader Mitch McConnell right now.
The consensus? McConnell talks a big game, but he never seems to deliver. Nancy Pelosi always seems to get the better end of deals in Congress.
And now he's getting called out by his own boss—President Donald Trump.
Trump really wants McConnell to continue an investigation into the controversial "Obamagate" allegations.
POTUS further warned that if the Majority leader doesn't act immediately, Republicans could be in danger of losing the Senate.
Trump made his feelings clear in a "tweetstorm" over the weekend, as first reported by Fox News: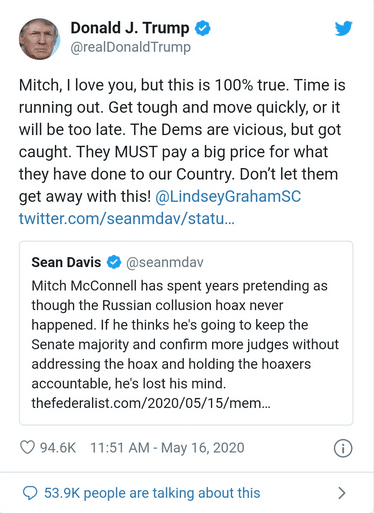 "Mitch, I love you, but this is 100% true. Time is running out. Get tough and move quickly, or it will be too late. The Dems are vicious, but got caught. They MUST pay a big price for what they have done to our Country. Don't let them get away with this! Yes, we need ACTION!"
McConnell really hasn't done much of anything to this point, unfortunately.
As Sean Davis says in that tweet above, McConnell hasn't really acknowledged the Russian collusion. It's like he's been dodging it for years.
He did criticize former President Barack Obama for slamming the Trump administration last week, where he called Obama "classless."
He also added:
You know, we know he doesn't like much this administration is doing. That's understandable.

But I think it's a little bit classless frankly to critique an administration that comes after you.

You had your shot. You were there for eight years. I think the tradition that the Bushes set up of not critiquing the president who comes after you is a good tradition.
But beyond that, Mitch has been sort of dragging his feet concerning the newly surfaced Obamagate accusations.
I believe that what Trump said is accurate … if we don't act quickly, it's very possible that Democrats could get away with everything (provided they are indeed guilty, of course).
Given all the evidence, I'd have to say that at the very least, an investigation is warranted. So, McConnell needs to get moving on that.
We're a little tired of the "all talk and no action" Mitch McConnell!
SHARE if you think Trump is right to push for an Obamagate investigation!
Source: Fox News