McConnell Fights Back Against Pelosi – Refuses To Allow "Airbrushing" Of The Capitol Hill Statues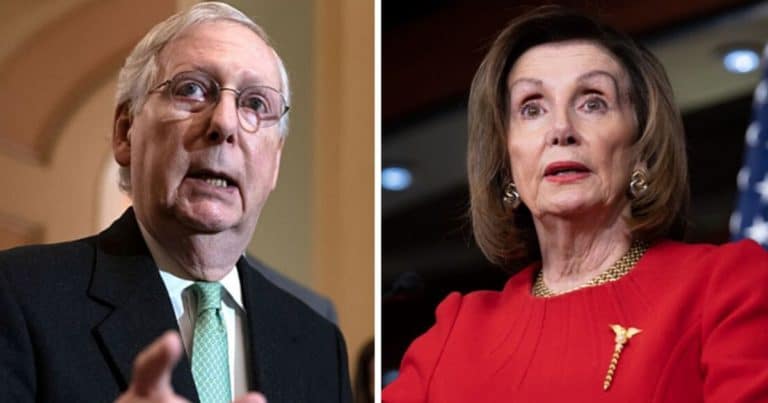 The protests over the death of George Floyd have mutated into a movement to eradicate much of American history. Protestors have attacked statues of notable figures across the world, defacing them or outright destroying them.
That includes iconic figures like Winston Churchill (who battled Nazis) and known abolitionists.
In D.C., Democrats like Nancy Pelosi appear to placate the mob, by talking about removing statues from Capitol Hill.
While states are able to place two statues in their capitals, removing those they wish, Mitch McConnell refuses to let D.C. be changed.
Senate Majority Leader Mitch McConnell (R-Ky.) on Tuesday rejected calls to remove statues of Confederate figures from the Capitol, reiterating that he thinks the decision should be made by states.

"What I do think is clearly a bridge too far is this nonsense that we need to airbrush the Capitol and scrub out everybody from years ago who had any connection to slavery," McConnell told reporters.
Why do statues matter so much?
Calls to remove Confederate and other historical figures from our landscapes have existed for years. Activists have sought to rewrite the history of many American leaders by magnifying their connection to slavery.
Critics of this movement warn that removing statues or changing monuments will only lead to an erosion of our history.
And as the saying goes, "Those who ignore history are doomed to repeat it."
Sen. McConnell points out that the removal of statues requires an act of law. While states can make changes, according to the will of the people, D.C. will not cave to the pressure of mob rule or radical activists.
Considering the president has fiercely spoken against the removal of statues, legislation to remove such from Capitol Hill is unlikely to pass.
Key Takeaways:
Senate Majority Leader Mitch McConnell rejects removing statues from D.C., calling it "airbrushing."
The removal of statues from the nation's capital requires the passage of legislation.
It is unlikely Congress, along with Trump, will pass laws to remove historical monuments.
Source: The Hill