McConnell Sent Spinning by His Own Party – Voters Just Told Mitch in Poll to Pack His Bags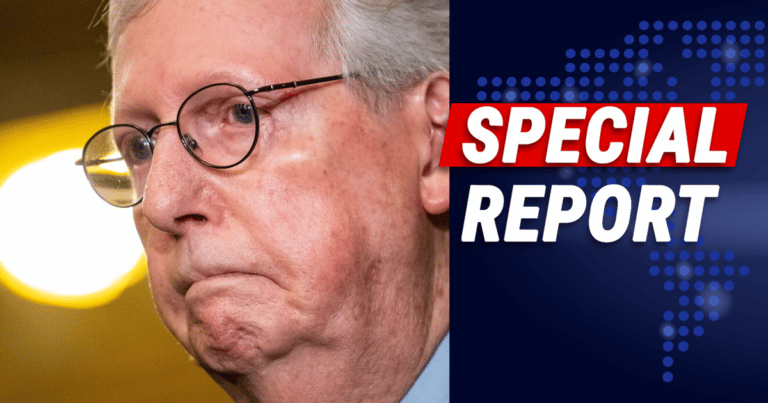 What's Happening:
Donald Trump had long criticized Mitch McConnell. He's even called into question Mitch's loyalties, as the Republican Senate leader seems more eager to help Joe Biden and Democrats than his own party.
McConnell pulled funding for Republican candidates this year in critical Senate races. He even worked against popular Republican candidates during primaries. Ted Cruz blasted the man, saying Mitch would rather have a Democrat majority in the Senate, than work with his own party.
And now, Republican voters are out for his head.
From Rasmussen Reports:
Republican congressional leaders remain unpopular, even with their own party's voters, who overwhelmingly want to get rid of Senate Minority Leader Mitch McConnell…

Sixty-two percent (62%) of Republican voters want to get rid of McConnell as Senate GOP leader, a sentiment shared by 58% of Democrats and 63% of voters not affiliated with either major party. Among self-identified conservative voters, two-thirds (66%) want Senate Republicans to choose a new leader.
Wow. A large majority of Republican voters want McConnell out as Senate Republican leader. A whopping 62% of them don't want Mitch calling the shots anymore. On top of that, most voters from other groups dislike McConnell.
This is hardly a surprise. What has McConnell done over the last two years to help the country? McConnell has sat back and let Democrats trample over the American people. He's said and done very little, even as Biden let the Taliban take over Afghanistan.
Mitch did nothing when Biden issued mandates that put millions of workers at risk. He did nothing as Biden shut down American energy and contributed to rampant inflation. Mitch did not rebuke Republicans who turned on the party to vote for Biden's infrastructure bill.
Where was Mitch during the midterms? He even tried to stop Republican candidate from putting forward a plan to combat Biden's failed agenda. Mitch just wanted Republicans to shut up and let Biden's failures speak for themselves. How did that work out for them?
From all appearances, Mitch is a RINO that is working against Republicans to help the swamp. The sad thing is, the rest of the Senate GOP isn't listening, as they voted to once again make him their leader.
Key Takeaways:
A new poll shows 62% of Republican voters want Mitch McConnell out as leader.
The RINO senator failed to help Republicans win big this midterm.
Republicans have accused him of helping Democrats instead of his own party.
Source: Rasmussen Reports