Mitch McConnell Announces Supreme Court Change – Sends Democrats Scrambling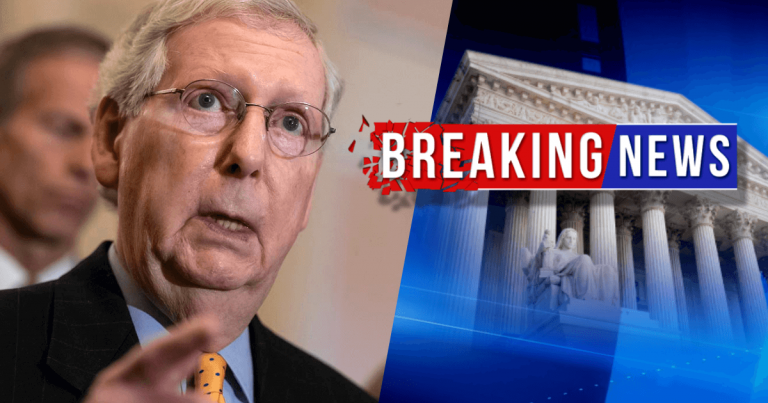 Mitch just got the jump on poor Nancy – get ready to mark another victory in the Trump column.
McConnell has big plans for the Supreme Court. And it's amazing—at least for Trump supporters.
But for the Democrats? Not so much…
We all know that Trump just might get another SCOTUS pick. Probably before 2020.
The Senate needs to approve the pick. Democrats want to wait after 2020, just in case Trump's gone.
Too bad they don't have the final say on that one. They already scrambling over Mitch's latest move.
From Fox News:
Democrats are livid after Senate Majority Leader Mitch McConnell, R-Ky., stated that Republicans would confirm a new Supreme Court justice in 2020 if given the chance, despite refusing to do so when Barack Obama was president during the last presidential election.
Ha! How does it feel, Democrats, knowing Mitch is turning your own tricks back on you?
McConnell refused to vote on Obama's SCOTUS pick in 2016, in order to give that to Trump.
Democrats were angry, but hey, they didn't have the votes.
Now McConnell is reversing that policy, because he can. Republicans control the Senate and they can easily get Trump's next pick through before the election.
Trump has already been transforming the federal courts. He's appointed two justices to the Supreme Court.
There's a good chance RBG will be stepping down pretty soon. That gives Trump a whopping third nomination.
And if Clarence Thomas has to retire, we need to replace him with another strong conservative.
We don't have to wait until after 2020, despite Democrat objections. Why? Because Republicans hold the Senate and the White House!
2016 was a different situation. Democrats held the White House but not the Senate, so the Senate could hold his nomination up.
No matter how much the Democrats complain, they can't do a thing to stop it. Trump is going to appoint real justices who will uphold the rule of law.
No more radical activists sitting on important benches.
SHARE if you support filling the Supreme Court with more conservative justices!
Source: Fox News