Mark Meadows Pulls Off Schiff's Impeachment Mask – Says The "Real Cover-Up" Is Adam's Connection To The Whistleblower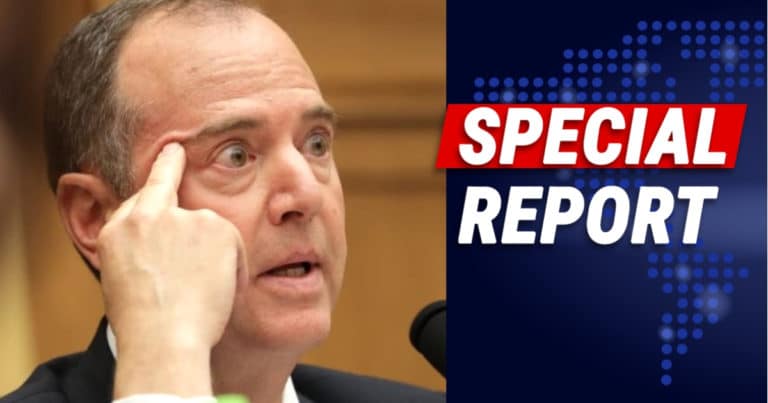 Democrats are doing what they can to remove President Trump from office. First they impeached him in the House, and now they're trying to get the Senate to convict him.
But many watching this impeachment process think Democrats have really messed up. How?
Well, Jerry Nadler kicked off the Senate trial by accusing Republicans of a cover-up. All because McConnell is following the 90s impeachment rules and not committing to new witnesses.
But these are witnesses the House could have called up, but didn't. This accusation didn't go over well with key moderate Republicans like Sen. Collins and Sen. Murkowski. The ones Democrats should be focused on winning over.
And now, Republican Rep. Mark Meadows used this opportunity to rip the "cover-up" mask off Adam Schiff.
From Fox News:
Lead House manager in the Senate impeachment trial against President Trump, Rep. Adam Schiff, D-Calif., perpetrated the real "cover-up" by coordinating with the whistleblower, Rep. Mark Meadows, R-N.C., said Thursday…

"So, we are going to continue to hear allegations of [a] 'cover-up.' The only 'cover-up' that I've seen is actually Adam Schiff and his team's cover-up on their coordination with the whistleblower," he stated.
Democrats are trying to accuse Trump and the GOP of a cover-up. But Meadows says the only cover-up going on is by Adam Schiff.
He is referring to Schiff's questioned connections to the so-called whistleblower.
You might remember how Schiff said he never spoke with the whistleblower. Yet he went out of his way to protect the man's identity during the House hearings, gaveling Republicans who asked questions about him.
We later learned that this person communicated with Schiff's staff, and one of Schiff's own staffers apparently worked closely with him.
So… what was really going on, Schiff? I think America deserves answers on this.
You claim to have learned about the whistleblower's complaints along with the rest of us.
But the evidence isn't clear for many of us.
Considering his role in all this, that's pretty important. Is there a chance Adam Schiff conspiring to take down Trump all along, or coordinating with the whistleblower?
Could this process have been corrupted? We don't know, but we would be happy to hear from the whistleblower and Schiff under oath.
We think it's time America found out the truth.
SHARE if you want the GOP to investigate Schiff and the whistleblower!
Source: Fox News