Megxit And Harry Plan Royal Move To America – But Not Until President Trump Exits White House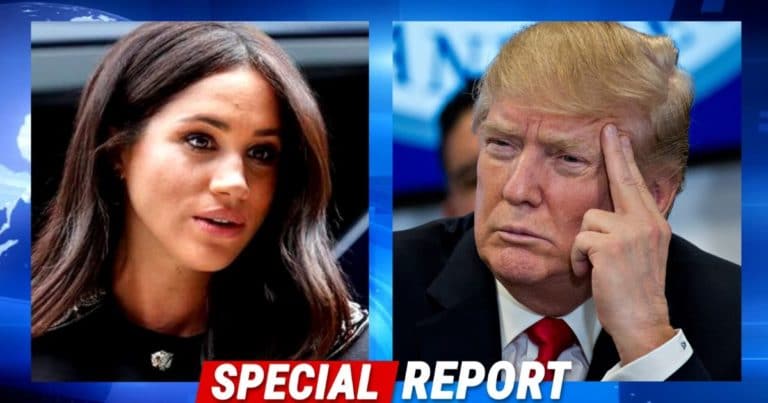 I'm sure you know all about the drama going on across the pond. It seems like Prince Harry made a big mistake when he married far-left actress (and notable anti-Trumper) Meghan Markle.
From the moment they married, she began driving a wedge between Harry and his family.
We've seen the prince become more and more far-left and radical in his statements and stances.
But the worst has come when, to the utter shock of his own family, Harry and Meghan announced they were leaving.
Not sure if this kind of thing has happened before in our lifetime.
The couple plans on living in the wonderful socialist state of Canada. But apparently, they also want to bother the U.S. as well.
According to some, they plan to have a home in Los Angeles. But one thing is standing in the way.
From Fox News:
Prince Harry and Meghan Markle reportedly want to make Los Angeles their new home following the announcement that they will "step back" as members of the Royal Family, but only after Donald Trump's presidency ends.

Even though the couple plans to live in Canada to start off, their true goal is to eventually have a home or business in Los Angeles, anonymous sources told the Daily Mail.
Lol, something tells me Harry and Meghan are going to have to wait a long time before they move to LA.
Why? Because they don't want to live in America until Donald Trump is out of office.
This is most likely Meghan's doing, as Harry never seemed to have such an aggressive political opinion before.
But why, out of all the cities in the U.S., did they pick disease-ridden, rat-infested Los Angeles?
At least Seattle has a better climate!
Meghan Markle has a long history of complaining about Trump. She said she would move to Canada if Trump won.
Instead, she moved to England to marry the youngest son of the late Princess Diana.
Poor Harry, he didn't see it coming! Meghan is dragging him from his own family and forcing him to live in Canada and Los Angeles.
The good news (for us) at least is we won't be seeing them before 2024.
But will they want to live here, when Mike Pence is president?
SHARE to tell the former Royal couple to stay out of Trump's America!
Source: Fox News