Megyn Kelly Shuts Down Kamala with One Word – Then Exposes Old Joe's Biggest Problem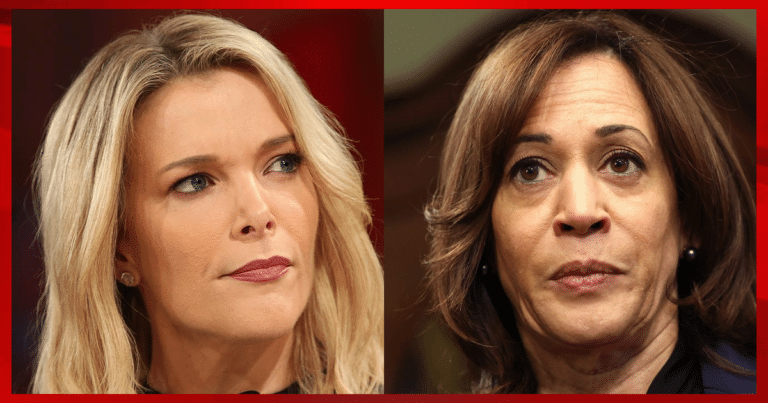 What's Happening:
Anyone who is being honest will admit that this administration is a clown show. Everyone who works for Joe Biden seems to have zero qualifications for their jobs. From Pete Buttigieg to Secretary of State Blinken, every member of Biden's cabinet seems to have no clue what they are doing.
But perhaps worst of all is Joe Biden's "right hand woman." It seems Biden picked Kamala Harris to be his running mate because of her race and gender, not because of her skill. And she proves that to use every time she opens her mouth. But we're not the only ones saying it. Noted news host Megyn Kelly fired off a few choice words for this "dynamic duo." And revealed why she is "concerned."
From The Blaze:
Megyn Kelly unequivocally declared that she believes Vice President Kamala Harris is a "moron."

[…]

While Kelly suggested that President Joe Biden is "losing his mental faculties," she said that Harris is "not a smart person." She said that the president is "knockin' on … the grim reaper's door" and Harris could potentially become president in the coming years. "I'm concerned," she said.
Wow. Kelly called Kamala Harris a "moron" while discussing the current administration. She said that the "vice president" is "very, very dumb" and that she can't "put two sentences together." Kelly is obviously referring to Harris's infamous "word salads" in which she fumbles over trying to say just about anything.
But the reason Kelly even brought this up was because of Biden's failing health. The host pointed out that Biden is "losing his mental faculties." She seems to believe old Joe can drop any day now, saying he's "knockin' on the grim reaper's door."
Should Joe kick the bucket any time soon, Kamala Harris would become president. If you think Joe was bad, just look out! A "President" Harris would be an absolute nightmare. Many believe Biden is just a puppet for the left. Harris would be much the same, but she would also have the ability to launch nukes.
Harris would be the one giving speeches, deciding policies, and meeting with world leaders. How embarrassing for us. Kelly speaks for many Americans when she says Harris is a moron who has no business in leadership.
Key Takeaways:
Megyn Kelly insulted Kamala Harris, calling her a "moron" and "very, very dumb."
The host said she is "concerned" because Biden is knocking on the "grim reaper's door."
Should Biden die while in office, Kamala Harris would take his place.
Source: The Blaze