Melania Just Accused Biden And His Democrats – She Says They Wasted Our Taxpayer Dollars On Sham Impeachment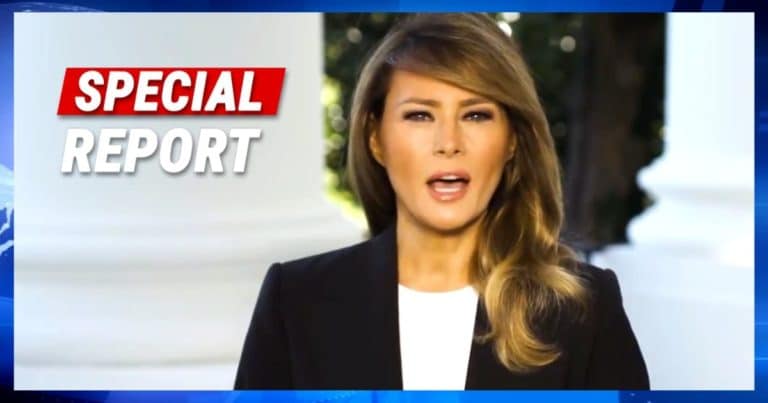 First Lady Melania Trump doesn't usually get political with her appearances and speeches.  She typically sticks to specific topics and subjects that, while important to America, aren't distinctly political.
However, with less than a week before the 2020 presidential election, even FLOTUS is willing to step into the ring. And her husband's campaign could benefit.
Melania spoke to a crowd of Trump supporters in Atglen, PA this week, and she really lit into Joe Biden and the Democrats.
For example, she tackled the widely-held and often circulated Democrat idea that Trump is responsible for making the coronavirus pandemic worse.
First, she specifically cited Donald's willingness to shut down travel from China. Then she went after Biden's achievements in the political arena or, in the eyes of Republicans, the lack thereof.
As she said (via Fox News):
Joe Biden attacked Trump's decision to close travel from China. He called it 'xenophobic hysteria.' Now he suggests that he could have done a better job.

Well, the American people can look at Joe Biden's 36 years in Congress and eight years in the V.P. and determine if he will be able to finally get something done for the American people.
This speech was in stark contrast to Melania's usually reserved countenance. Historically, she has refrained from throwing some political dirt.
But with her husband's job on the line, Mrs. Trump clearly isn't afraid to call out Biden and his supporters.
She ripped Democrats for putting "their own agenda" ahead of the health and well-being of America, and further went after Biden's "socialist" leanings.
But perhaps her boldest statement came when she reminded the country what Democrats were focused on when the pandemic hit:
Let us also not forget what the Dems chose to focus on when the pandemic entered our country.

The Dems were wasting American taxpayer dollars in a sham impeachment. They cared more about removing our elected president.
The First Lady was very diplomatic in addressing Donald Trump's tweeting habits, however — she said she "doesn't always agree with the way he says things."
At the same time, though, Melania stressed that it's important for a President to "speak directly to the people he serves."
Lastly, FLOTUS went after the media and its portrayal of Donald:
When he decided to run for president as a Republican, the media created a different picture of my husband — one I didn't recognize — and treated all his supporters with equal disdain.

The media has chosen to focus on stories of idle gossip and palace intrigue by editorializing real events and policies with their own bias and agendas.
Whether or not Mrs. Trump's strong comments have a significant impact on voting remains to be seen.
But undoubtedly, the President's supporters loved hearing what Melania had to say, especially because she didn't shy away from powerful statements.
She stood up for her husband and let the Democrats know exactly where she stands: at Donald Trump's side.
Key Takeaways:
First Lady Melania Trump ripped Joe Biden and Democrats during a recent speech.
She called out Biden's "socialist agenda" and said Dems were focusing on a "sham impeachment" rather than the pandemic.
FLOTUS also went after the media for painting her husband in a negative – and inaccurate – light.
Source: Fox News