Melania Trump Just Went After CNN – She Calls Their Fresh Hit Piece An 'Unhealthy Obsession'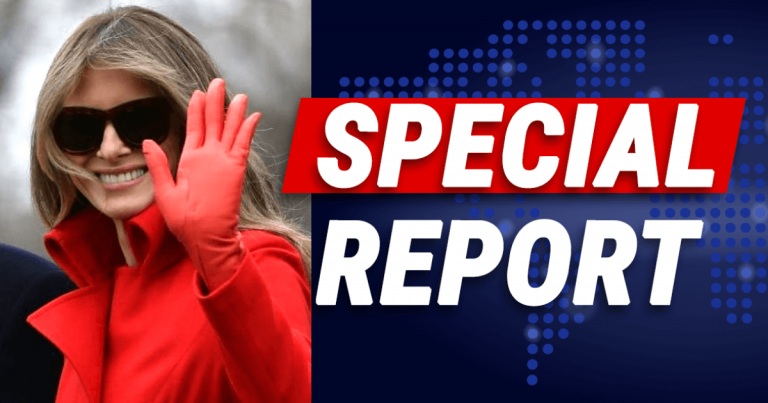 What's Happening:
I think it's fair to say that former First Lady, Melania Trump, deserves to return to private life.
She's no longer in the White House, so if she wants to stay quiet, she has the right to be. Melania served Donald and the country faithfully for four years—but it seems the left is still obsessed with her.
Millions of Americans celebrated Melania's grace and leadership. But the left still tries to find ways of tearing down this self-made woman.
They even published a hit piece about her "state of mind" over the impeachment. Naturally, they cited no authoritative sources.
So, Melania's team decided to hit back. From Twitter:
Mrs. Trump is no longer First Lady. She is a private citizen, mother, & wife. Sources in this article are not affiliated w her nor have insight into her thoughts or daily life. CNN's FLOTUS Correspondent choosing to publish false gossip illustrates the media's unhealthy obsession.
Like sick dogs searching for a bone, CNN and other outlets continue to look for gossip against Melania Trump.
It's pretty sad. It seems these outlets now they'd have no audience if they weren't bashing Donald or his family.
So, they appear to be digging up rumors to push new narratives against someone who is now a private citizen.
Since she is no longer working in the White House, there are very few people who are close to Melania that would be speaking to CNN.
How are they getting these "insights" into her thoughts or day-to-day life? And why are liberals, who hated on Melania for over four years, so concerned with her state over the impeachment?
I guess Trump Derangement Syndrome doesn't go away, just because the Trumps are out of office. I wonder how many more hit pieces CNN and other outlets will write in the coming days, weeks, or years?
Should Melania want to return to public life, to promote her own causes or initiatives, that would be one thing.
But for the media to cook up gossip, just to get a few clicks? That's pathetic.
Key Takeaways:
CNN and other media outlets spread unconfirmed reports about Melania Trump's "state of mind."
They cited "sources" that claimed to know about the former first lady's daily life.
Melania's office released a statement, discrediting these reports and "sources."
Source: Twitter