Melania Trump Turns Heads Over 2024 Election – In First Post-WH Interview, She Speaks Out on 2024, Shortages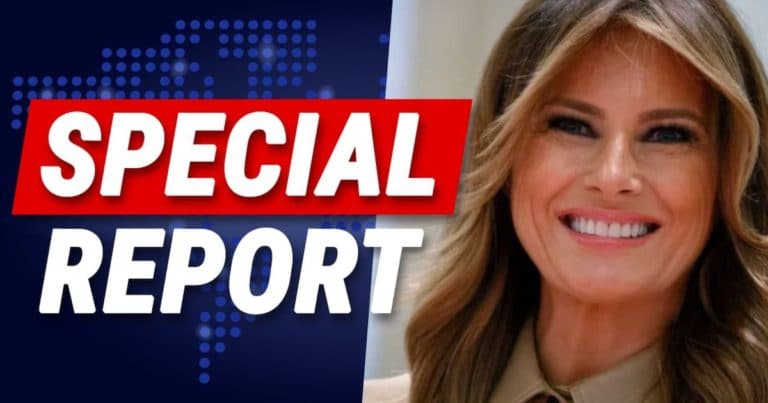 What's Happening:
While she was the first lady, Melania Trump carried herself with dignity and poise. Even as the two-faced media slandered her, she became a model of what a first lady should be.
We haven't heard much from Donald's wife, since leaving the White House. But this week, she gave her first interview in years. And she had plenty to say.
From Daily Caller:
"I think we achieved a lot in the four years of Trump's administration. I enjoyed taking care of the White House. It was my home for a while. I understood it is [the] people's house. It was a privilege to live there," she said.

"And maybe it'll be your home again?" host Pete Hegseth asked.

"Never say never," Trump responded, smiling.
Democrats will reel from that little nod. But then she dropped the hammer on the failed Biden administration.
From Fox News:
"It's heartbreaking to see that [families] are struggling, and the food is not available for children in [the] 21st-century in the United States of America," she told co-host Pete Hegseth. Trump attributed the shortage to "leadership." […]

On the overall state of the country under Biden, she said it is "sad to see what's going on, if you really look deeply into it." Trump added that many people are "struggling and suffering."
Melania Trump discussed her time in the White House, during her first interview since leaving D.C. She called looking after the White House a privilege.
And when asked about returning she hinted, "Never say never."
Trump, like 45's closest allies, continues to be a stalwart supporter of her husband. She is a model wife and leader, standing by Donald's side—even as some former staffers and friends turned on them.
While discussing current crises hitting our country, she blasted Biden. She said it was unthinkable that there is not enough food for children "in the 21st-century." Pretty much.
How can the United States of America not have enough baby formula? Even at the height of the 2020 crisis, we had enough food to feed our children.
Melania chalked up this "heartbreaking" crisis as the fault of the current leadership, or lack thereof.
Biden's pathetic lack of leadership is hurting Americans of all backgrounds. He can't even get baby formula on the shelves.
And he's talking about taxing corporations and blaming the problems on everyone else but him!
Melania knows who really is to blame. And so do the rest of us.
Key Takeaways:
Melania Trump gave her first interview since leaving the White House.
She blasted Joe Biden over the baby formula shortage.
The former First Lady also hinted at a possible return to the White House.
Source: Fox News, Daily Caller