Melania Trump Just Broke Her Silence – The Former First Lady Says Donald's Comeback Will Bring Peace to America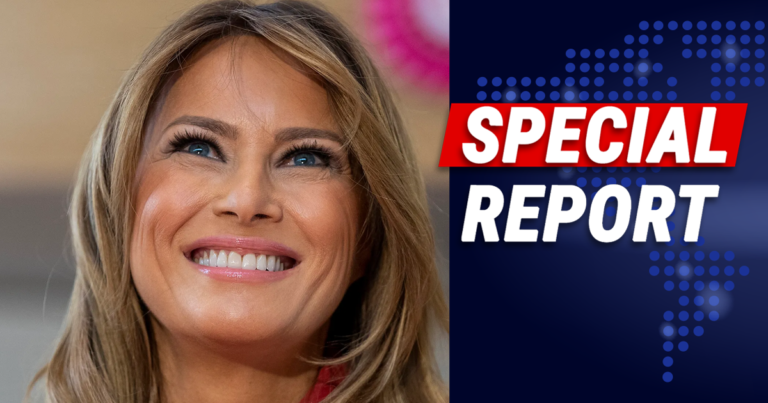 What's Happening:
Now that Trump has officially announced his bid for the 2024 Presidential Election, the speculation has only grown. People are looking to see who within the Republican Party will flock to Trump's banner.
A few notable people are missing, including some long-time allies and even his daughter Ivanka. It's no surprise that Americans are eager to know what Melania Trump, Donald's wife and the former first lady, thinks about his return to the campaign trail. And she has broken her silence.
From OANN:
Former First Lady Melania Trump praised her husband's bid for the White House and supports his decision to run again.

In an exclusive interview with Breitbart News, Melania said that she believes Trump will return America to peace, love, and prosperity during his second term…

On Tuesday night, the 45th President announced his 2024 presidential campaign from his Mar-a-Lago estate, pledging to return the country to law-and-order and economic success.
According to a recent interview, Melania Trump announced her support for Trump's 2024 bid. She especially noted that Trump returning to the White House would restore America's "peace, love, and prosperity."
This statement strongly suggests Melania's involvement in the 2024 campaign. Melania worked with Trump during his 2016 bid for the White House. As the first lady, she led her own campaign to improve education standards for children.
Should Trump return to the White House, we can expect Melania to be by his side and work again within the administration.
Trump is the first notable figure within the GOP to announce a 2024 bid. Although Biden has claimed he is running for re-election, he has failed to officially announce his campaign. Experts predict that several other Republican figures will enter the race including, Mike Pence and Florida governor Ron DeSantis.
The election is two long years away. And the GOP primaries are sure to be fierce and hotly-watched.
Key Takeaways:
Melania Trump announced her support for Donald Trump's 2024 bid.
She said that Trump will restore "peace, love, and prosperity" after the Biden years.
Republicans are currently divided on whether to back Trump a third time.
Source: OANN