Melania Transforms White House For Christmas – Video Shows Off Her Patriotic 'The Spirit Of America'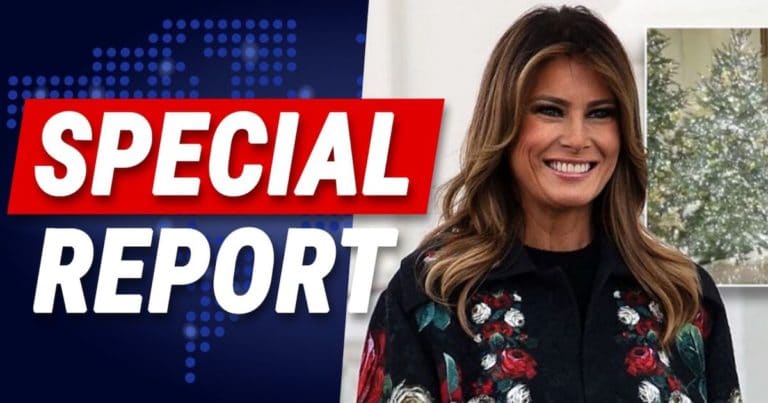 Melania proved the naysayers wrong – I can't stop watching!
The critics can say whatever they want.
I think First Lady Melania Trump's Christmas decorations have always been spectacular!
That's why I've been anxiously awaiting the unveiling of her Christmas 2019 theme for the White House…
And it's finally here!
Mrs. Trump has gone all out this year. Not only are her decorations beautiful and magnificent, but she has also embraced the perfect theme:
"The Spirit of America."
That's right, Melania's wonderful, classy touch includes honoring our nation's heroes, the 50 states of the country, and past Presidents.
Our First Lady has a magnificent eye for decorations, AND she's a true patriot!
"The Spirit of America" is shining in the @WhiteHouse! I am delighted to share this beautiful exhibit of patriotism for all to see, and excited for everyone to experience the beauty of the #Christmas season! pic.twitter.com/qGxxl9qBrd

— Melania Trump (@FLOTUS) December 2, 2019
That video is SO great, in so many ways.
And in a guidebook the Trump family wrote up, we get the following heartfelt words:
It is with great joy that our family welcomes you to the White House this holiday season as we celebrate the Spirit of America.

During your visit, we hope you enjoy our tribute to the traditions, customs, and history that make our country great.

Since our founding, courageous individuals have shaped our country and kept the American spirit alive.
"The Spirit of America" is jam-packed with wondrous glory, too!
Check out the mind-boggling decorating statistics, courtesy of The Daily Caller:
106 Christmas wreaths
58 Christmas trees
More than 800 feet of garland
More than 2,500 strands of lights
More than 15,000 bows
More than 400 gold stars
More than 4,000 floral stem varieties
200 pounds of gingerbread
THIS is why we love the Trumps, and we especially admire Melania's deft interior decorating touch.
She managed to celebrate the greatness of America while still paying homage to the best holiday of the year, and that is no small feat!
I didn't think FLOTUS could top last year's picture-perfect display … but she did. 🙂
SHARE if you agree that this is the BEST the White House has ever looked for Christmas!
Source: The Daily Caller