Mexican President Pushes 'New World Order' On U.S. – Obrador Just Tried to Sell Biden the American 'Superstate' and Open Borders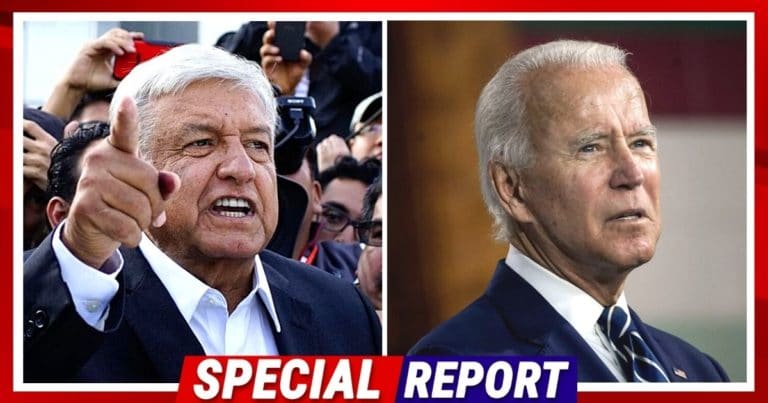 What's Happening:
For years, the Mexican government has mostly turned a blind eye to the border crisis. That's because it has no intention of stopping people from leaving Mexico to work in the U.S.
(They know these migrants send millions back to Mexico, in turn.)
But it seems like their current president doesn't think that's good enough. He wants even more Mexican workers taking American jobs—sending all that money into his pocket.
From Breitbart:
Mexico's president is reviving calls for a continental superstate that would combine North American employers and South American employees – and sideline tens of millions of middle-class Americans.

"I will go in July to visit [President Joe Biden] at the White House and I want to discuss with him the issue of the integration of all America," President Andrés Manuel López Obrador said at a press conference in Mexico's presidential palace. He continued: "My position is that, just as how the European community was created … we have to do that in America."
Why not!? Eliminate our borders and immigration laws so as many Mexicans who want to can take our jobs.
America has everything to lose from this arrangement. But Mexico has everything to gain.
Of course, Mexico wants not only an open border (which Biden has already given them), but a change in laws to allow anyone from Mexico to steal our jobs.
Just imagine how destructive such a move would be. Obrador claims this will be just like Europe.
Oh! Do you mean the continent that let millions of eastern refugees flood their countries, upending their society?
Sign me up! No thanks, folks.
Biden will take to this proposal, of course. He seems to want more outsiders to flood the country. Why? To tip the balance of voting demographics.
And liberal elitists love cheap labor from South America. Why pay Americans a living wage, when you can pay non-citizens next to nothing?
(That's the real reason they push for high minimum wage, by the way. Because they will never pay it!)
It's unlikely, today, that such an arrangement can be made. Such a dramatic transformation of our relationships would require legislation.
And with Congress as broken as it is, that's not going to happen soon. But the fact that Mexico is pushing for it means it could happen, one day.
Key Takeaways:
Mexico's president wants to eliminate borders to allow Mexicans to take American jobs.
Joe Biden has already allowed an open border so migrants can flood the U.S.
Democrats want migrants to alter voting demographics in states with loose voter I.D. restrictions.
Source: Breitbart