President Biden Suffers New Border Humiliation – Mexico Insults America, Then Turns for Help to China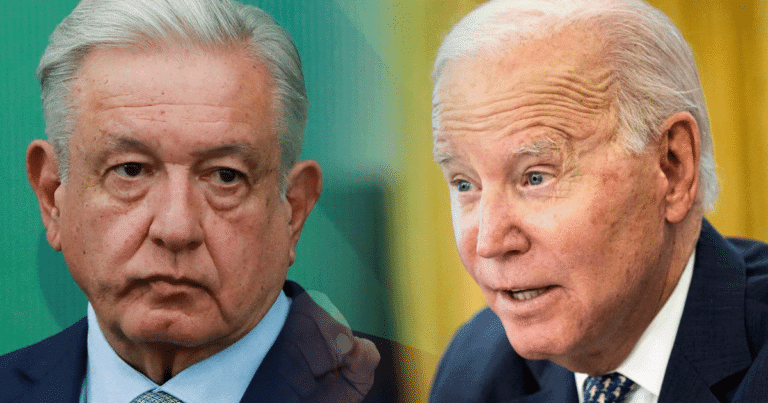 What's Happening:
At this point, we have to wonder why Joe Biden continues to leave the border open. Sure, he originally did that to reverse Trump's policies. Whatever Donald did, Joe did the opposite. But enough time has passed for everyone to see this is a major crisis
And it isn't going away.
Border town officials revealed drug cartels are running the border. Millions of illegals have flooded the country. The effects of Biden's open border will be felt in the U.S. for years to come. Now, because Biden has refused to lead in this critical issue, Mexico is turning to someone else. In a sharp rebuke at America, the Mexican president is leaning on China.
From Daily Wire:
Mexican President Andres Manuel Lopez Obrador has written to officials in China requesting Beijing's help in stemming the flow of fentanyl into Mexico…

The Mexican president also struck out at the U.S., according to the Associated Press.

He complained about the U.S. in his letter and the "rude threats" coming from U.S. officials to classify Mexican drug cartels as terror groups.
Wow, how pathetic. Joe Biden refuses to do anything about the exploding drug trade along the border. So, Mexico has no other option but to seek help from communist China. Which is, by the way, the same country producing the poison in the first place.
Asking for China to help fix this problem is like asking a rabid dog to stop biting you. Do you think that's going to work? What's even more pathetic is that U.S. officials told Mexico to do this! That's how powerless this administration really is.
It refuses to address a problem Biden created. And now, they are telling Mexico to go find help somewhere else.
This is pretty damning when you realize China is rapidly replacing the United States as a global leader. Saudi Arabia sought China's help when dealing with Iran. France's president just traveled to China to seek their help in ending the war in Ukraine.
Everyone seems to think China–a corrupt communist nation run by a tyrant–is a better leader than the United States. Why is that? You can't blame Donald Trump, Democrats. When he was in office, the world listened to us.
This is because Joe Biden is a senile, corrupt, powerless puppet. He does not care about America or anyone else. He is just in it to enrich his family and Democrat buddies. Everyone else, even our allies, can stuff it.
For Mexico or anyone else to go to China instead, is the final nail in this administration's coffin.
Key Takeaways:
Mexico is asking China for help in ending the drug trade on the border.
This comes as Joe Biden refuses to enforce U.S. immigration laws.
Drug traffic has exploded, thanks to Biden's open border policy.
Source: Daily Wire