President Trump Catches Mexico Off Guard, Says They Will Still Pay For The Wall 'Through Tolls'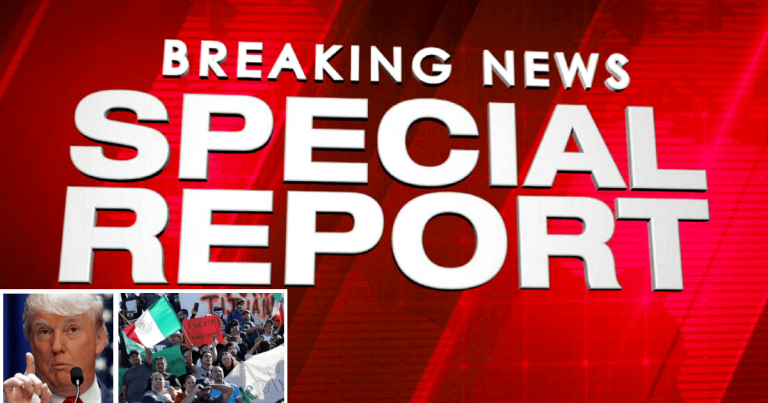 What's Happening:
From the first day Trump claimed he would get Mexico to pay for the wall, liberals mocked him.
They stonewalled his efforts to finish the wall.
Democrats even ignored the migrant crisis, as thousands tried to flood into the country.
But Trump has a new idea that will certainly get Mexico to pay for his signature campaign promise:
President Trump said Mexico will pay for the wall being constructed along the U.S. border through a toll that will be imposed, along with possible action on remittance payments.

During a rally in Winston-Salem, North Carolina on Tuesday night, Trump said there will be toll booths set up along the border, which he added is the most heavily trafficked border in the world both in terms of people crossing and in terms of industry.

"We're putting a small toll on and maybe we're going to do something with remittance," Trump said. "All the money that we spent on the wall will be coming back."
During a recent rally, Trump promised that Mexico will pay for the wall through a "small toll" placed along the border.
Trump said our U.S.-Mexico border is the most heavily trafficked border in the world.
Not only do travelers cross over on a daily basis, but plenty of commerce crosses the border, both into and out of Mexico.
A toll on the undoubtedly constant travel between countries would pay back the wall and then some, even in a short amount of time.
Much of the wall has been erected, particularly in areas that are frequently used for illegal crossings.
Still, much is left to be done, thanks to Democrats who have refused to fund the building project.
Should Trump win a Republican majority in the Fall, he could quickly acquire the funding to finish the project.
His plan to implement a toll would quickly recoup those costs.
Liberals continue to oppose any forms of immigration reform, including a border wall or other forms of improvement.
Trump has frequently called on Democrat leaders in Washington to craft a solution to DACA.
Every time he invited them to the negotiation table, they've rejected him.
Many question if Democrats even want to fix the immigration problem.
Key Takeaways:
President Trump suggested a toll on the border wall will get Mexico to pay for it.
Congress has continued to refuse to provide funding to finish the wall.
Trump said the border is the most heavily trafficked border in the world.
Source: Fox Business