Michigan Governor Whitmer Busted – Emails Show She Green-Lit Taxpayer Funds For Dem Groups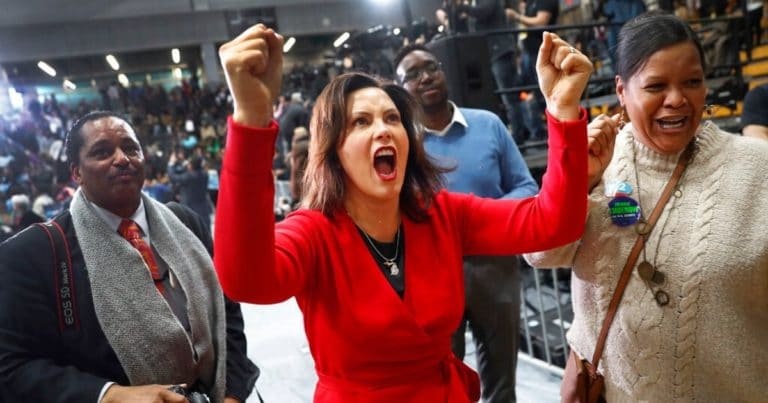 The governor of Michigan isn't doing great. But this latest bit of bad news might be the worst yet.
She was once high on Joe Biden's VP shortlist. Until she imposed strict lockdowns on her state. Then we learned her husband tried to get special treatment to use his boat.
Now, it appears her office wasn't totally honest about taxpayer dollars.
From Daily Wire:
Newly released emails show that Michigan Democrat Governor Gretchen Whitmer's office gave the "green light" for taxpayer money to be awarded to Democrat groups as part of the state's coronavirus tracing program.
Emails have revealed that Gov. Whitmer's office gave the "green light" to use taxpayer money for a contact tracing program.
The money was awarded to Democrat groups, casting doubt on the integrity of the decision.
Whitmer is claiming ignorance of the decision. But the emails reveal it came from her office.
Our Take:
Contract tracing itself is a questionable practice. It involves potentially invading a citizen's privacy to find out where they went—in order to discover if they spread COVID-19 to others.
While that's bad enough, we are learning that the governor's office was giving tax dollars to Democrat groups to do this.
That looks like a conflict of interest. The office knew this would look bad, so they tried to find apolitical subsidiaries of these firms.
But that doesn't change the fact they were awarding tax dollars to groups who may help Whitmer politically.
It's safe to say Whitmer hasn't handled the crisis well. This is just another example of how the Democrat screwed up the situation.
She punished Michigan residents with strict—some say bizarre—lockdown orders. Then when they complained, she extended the lockdowns. That sparked lawsuits from both businesses and her own legislature.
Now, it appears she or people in her office were using tax dollars to reward political allies.
Not great, lady. If they did it on purpose, they could face serious consequences.
Not that we're at all surprised.
SHARE if you want Whitmer investigated.
Source: Daily Wire