Michelle Obama's Anti-Obesity Program Is Coming Back To Bite Her—Bigly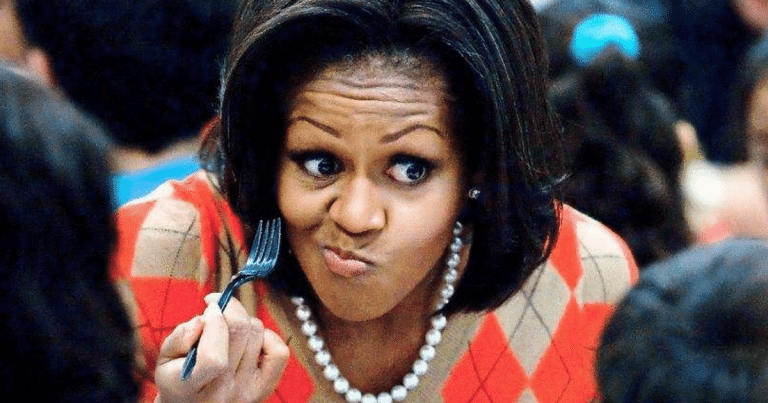 Even the best-laid plans can go awry.
The poorly laid ones? Well, it's a given that they will eventually go up in flames and metastasize into an unmitigated failure.
Another perfect example of that has come to light, and it comes courtesy of one of former First Lady Michelle Obama's signature initiatives. She spent her eight years in the White House promoting an anti-obesity agenda, which included forcing kids to exercise while giving them a crust of bread and glass of water for their school lunches.
Now, the latest report shows that her program is coming back to haunt her in a most surprising way.
The Daily Caller has the details.
The Obama administration's anti-obesity programs apparently didn't work, as percentages of overweight and obese children continue to rise.
Despite CNN's 2015 report to the contrary, obesity has steadily risen between 1999 and 2016, according to Pediatrics journal.
In order to reach their findings, the authors examined data from the National Health and Nutrition Examination Survey that was conducted by the Centers for Disease Control and Prevention.
What they found was nothing short of mind-blowing.
Researchers at Virginia Tech found that poorer children who ate free meals at school provided by the government were more likely to become overweight.
"While well-intentioned, these government funded school meal programs that are aimed at making kids healthy are in fact making participating students more at risk of being overweight," Dr. Wen You, a professor at Virginia Tech who authored the research, said in a statement.
In addition, there has been a dramatic effect on obesity rates on younger children in recent years. The author's note that children between the ages of two and five have "showed a sharp increase in obesity prevalence from 2015 to 2016 compared with the previous cycle."
The former FLOTUS spent a ton of time and resources (aka our taxpayer money) executing her plan, and she touted it as the greatest thing since sliced bread every chance she got.
As the study shows, she was wildly off the mark.
This once again proves that government should never be in the business of telling parents how to raise their children. Parents and teachers know a heck of a lot more in raising their own than the federal government.
Thankfully many of Michelle's programs are going away. All I can say is: the sooner the better.
Source: Daily Caller