Michelle Obama Just Made Trump Supporters Cheer – Very Soon The Nightmare Could Be OVER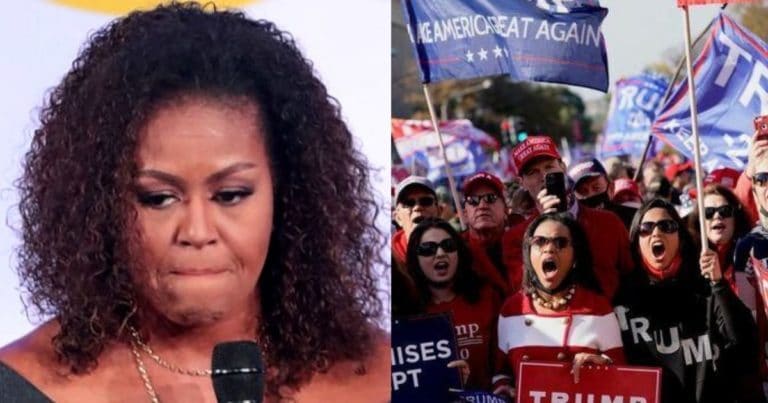 What's Happening:
It's been four years since Obama was ejected from the White House, but that family still pops up from time to time.
They're like a monster from a horror movie. Just when you thought it was safe… BAM! Michelle comes out with a new book.
Since Biden "won" the election, we've been seeing even more of the Obamas. Hey, can't these people just leave us alone? Just stick to ruining Netflix, or something.
But there might be a reason to rejoice. After winning some bogus award, the First Lady of Misery announced she'd be retiring soon.
From Breitbart:
Former first lady Michelle Obama revealed in a Wednesday interview that she is "moving toward retirement," saying she and husband and former President Barack Obama are "building the foundation for somebody else to continue the work."
Why It's Important:
Michelle Obama announced he was "moving toward retirement." Yeah, she must be getting tired of doing nothing for a living.
She claimed she and her husband were "building the foundation for somebody else to continue the work."
Uh… what? Is she talking about the presidency? Obama left in 2017 (unless she is admitting they are calling the shots, not Biden).
Maybe she's talking about something else. She wants someone else to "continue the work" it seems.
What work? Dividing the country over race, politics, economics, and foreign policy? Bending over backward to China and the EU?
What has Michelle really done since they left the White House? We know they landed very sweet deals from major publishers and the entertainment industry. They sit on the board of various companies.
But it's not as if they do actual work, right?
Remember when Oprah promised to retire, all those years ago? We all got our hopes up that we'd no longer be lectured to by one of the richest, most-privileged women in the world.
But she lied to us! We see Oprah all the time. Is Michelle pulling another Oprah? Will she "retire," only to show up every year with another insufferable interview with terrible human beings?
God, I hope not.
Key Takeaways:
Michelle Obama revealed she planned to retire soon.
She claimed she and Barack were "building" something for others to continue the work.
The Obamas have cashed in on their celebrity status since leaving the White House.
Source: Breitbart