Michigan Governor Could Be In Trouble In 2020 – State Board Just Approved Petition Language To Recall Her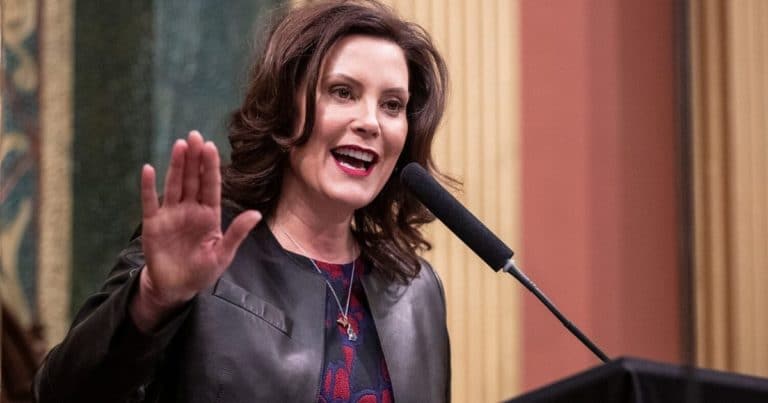 Michigan Gov. Gretchen Whitmer has made some unpopular decisions since the virus pandemic.
Many residents were upset over her extended lockdowns (and attacks against businesses). Yet soon afterward, she was seen supporting leftist protests, ignoring her own social distancing rules.
A petition to recall her has gained thousands of signatures. Now, the state board has taken a big step in making it a reality.
From Michigan Live:
Albion resident Chad Baase, 39, was successful in his third attempt at coming up with "clear and factual" language to move forward with the recall petition process. He and his group — the Committee to Recall Governor Gretchen Whitmer — must come up with more than 1 million signatures from registered voters in 60 days or less to trigger a recall election.
A Michigan resident is able to move forward with a petition to recall Gov. Whitmer. His group now has sixty days to acquire 1 million signatures to trigger an election.
Our Take:
Are we really surprised that this is happening?
Once upon a time, Whitmer was considered a possible running mate for Joe Biden.
Today, she is facing a possible recall as governor. What went so terribly wrong?
Whitmer, that's what went wrong.
She slammed the state with one of the strictest lockdowns in the country. When residents complained, she appeared to extend it out of spite.
Her government went after a 77-year-old barber, suspending his license and hitting him with thousands of dollars in fines.
Then, we learned that her husband appeared to try to get special treatment to take his boat out on Memorial Day, using her position (despite her lockdown orders).
That all adds up to some very upset residents. Time and again they've watched their leaders seemingly betray them.
All for what? To battle a disease? Was COVID-19 really a reasonable cause to do all this?
When we saw numerous other states reopen safely and thrive?
What's even more shocking is not once did Whitmer try to mend her image. She seems to flout her disregard for regular Americans.
She even ignored social distancing guidelines to support liberal demonstrations. Is that the definition of hypocrisy?
SHARE if you want Whitmer recalled and removed.
Source: Michigan Live