Michigan Governor Orders More Social Distancing – Then She Quickly Defies Her Own Order In March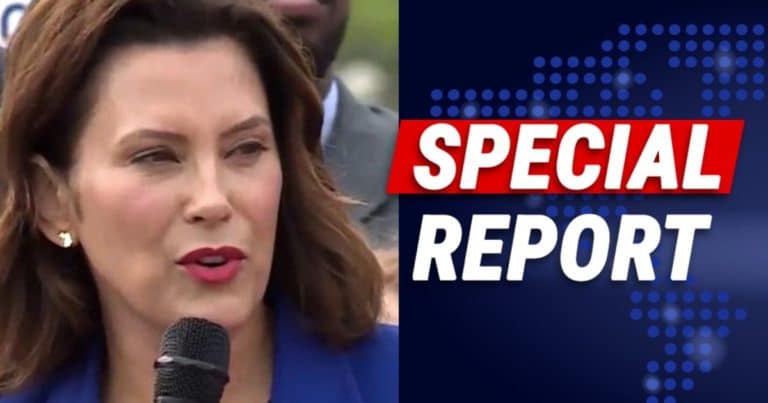 From the start, Michigan Governor Gretchen Whitmer has been gung-ho about social distancing.
The Democrat leader issued some of the strictest – and most controversial – orders during the pandemic lockdown.
Furthermore, she has expressed concerns about so many people congregating and protesting in recent weeks.
…so why is she suddenly strolling through Highland Park arm-in-arm with literally hundreds of people?
Nothing about this falls in line with "social distancing."
From The Detroit News:
Gov. Gretchen Whitmer, who's voiced concerns about other demonstrations potentially spreading COVID-19 in recent weeks, participated Thursday in a civil rights march in Highland Park with hundreds of people who did not follow social distancing rules.

Whitmer drew criticism after she stood shoulder to shoulder with some march participants, who included Detroit Mayor Mike Duggan.
Wait a minute.
I thought we were all supposed to be terrified of this virus. I thought everyone's health was a top priority for Whitmer.
Well, maybe she couldn't resist an opportunity to side with protesters.
As Republican Lynn Afenoudlis said in a Tweet: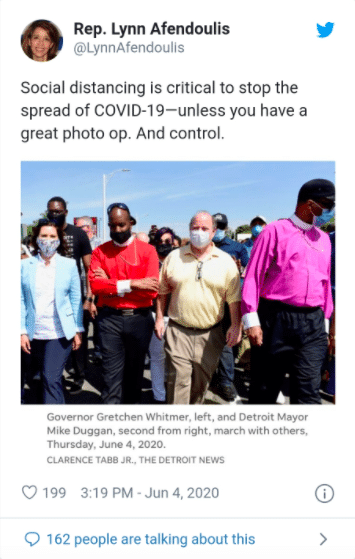 Social distancing is critical to stop the spread of COVID-19 — unless you have a great photo op.
Whitmer spokeswoman Tiffany Brown claimed the governor had NOT violated her own executive order.
She said that basically, exceptions can be made in the event of important peaceful protest.
However, a page on the governor's website says the opposite:
Persons may engage in expressive activities protected by the First Amendment within the State of Michigan but must adhere to social distancing measures recommended by the Centers for Disease Control and Prevention, including remaining at least six feet from people from outside the person's household.
Well, there it is.
It's her own order and it doesn't appear she followed it during her march.
Evidently, like Rep. Afendoulis said, this was more about a photo-op than anything else. And they blame Trump for that…?
It isn't hard to find examples of hypocrisy on the left, now is it?
Do you think Gov. Gretchen Whitmer violated her own executive order? SHARE if you do!
Source: The Detroit News